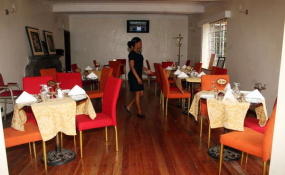 Photo: Liz Muthoni/Daily Nation
By Elizabeth Merab
Only one of the two Nairobi hospitality outlets ordered shut on Wednesday has complied with the Ministry of Health's directive to close its doors until medical investigations are completed.
On Thursday, the Valencia Gardens restaurant shut its gates, denying customers access to the premises.
At the gate of the restaurant's headquarters in Lavington is a poster that says "Valencia Garden restaurant will remain closed today".
The outlet's website says: "This landmark luxury restaurant is the quintessence of five-star services and facilities".
JACARANDA HOTEL
On Wednesday, the Health ministry ordered Jacaranda Hotel and Valencia Gardens shut indefinitely. They offered catering services during the trade conference at the Kenyatta International Convention Centre, leading to several people being admitted to hospital with cholera symptoms.
However, Jacaranda Hotel, which currently has an estimated occupancy rate of 60 per cent, was reluctant to shut its doors in what the Nairobi City County Government has interpreted as defiance.
In a letter to the national and county governments' health bosses, Jacaranda's group chief executive officer Killian Lugwe said the hotel had complied with the ministry's requirements spelt out on July 17.
"On July 18, Ministry of Health officials took stool samples of all staff and they have been taken for testing by them. On the advice of county health officials, the hotel administered a prophylaxis medicine known as Erythromycin or Doxycyline to all staff," says the letter, dated July 18.
AREAS DISINFECTED
Mr Lugwe said that all the areas at the premises were disinfected as ordered by the ministry. He added that this was done under the supervision of Ministry of Health officials and county public health officials.
"The hotel has further sensitised all staff to ensure high standards of hygiene both at work and at home, and if they exhibit any symptoms, to report to the management or visit the nearest clinic immediately," says the letter. On Wednesday, Jacaranda Hotel denied receiving any letter from the ministry, directing it to close its business.
However, from the letter, it seems the results of the tests ordered by the ministry are yet to be released.
Speaking on Thursday, Nairobi County's Health Executive Bernard Muia said the government was not out to victimise hotel owners by insisting on stringent measures. He said the order to shut the hotels should, however, be complied with.