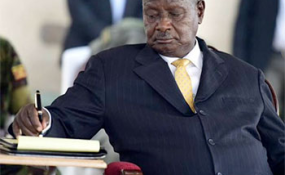 Photo: The Observer
By The Observer Team
President Museveni's private secretary on political affairs has said he has never received instructions or permission from his boss to start a campaign rallying Ugandans to support the removal of the age limit.
David K Mafabi says that his involvement in coordinating a Tuesday meeting that resolved to support removal of the age limit from the constitution was strictly personal.
On Tuesday, Mafabi coordinated a 'symposium of diverse members of the movement' where they resolved to, among others, to carry consultations on "whether or not any Ugandan who is 18 years and above should be disqualified from being president."
He says that while most people are concerned about the age limit resolution, the meeting deliberated on many issues of national importance such as creating an upper house for parliament where the wisdom of the likes of Kizza Besigye, former premier Apolo Nsibambi or Bidandi Ssali would be utilised.
"Why do Ugandans waste such people? Imagine Besigye got 3.5 million votes in the presidential elections. That alone should be automatic qualification to parliament. This debate should not be about one person, it about national cohesion," he said.
On whether he coordinated the meeting on behalf of his boss, Mafabi said formal engagements about age limit have not commenced and would ideally be done through party and government structures. What happened at Kati Kati, he said, was an informal gathering where patriotic Ugandans pooled resources to discuss national matters.
"I am not your usual public servant. What I do is not partisan politics; what I do is the duty of a patriot," he said.
"Some of us are not in this thing for material benefit. I actually feel insulted when people make such suggestions; I feel very insulted. I left the world of work and joined the struggle in 1985; that is 31 years ago. So, this is not a job for me, it is a deployment in the revolution. And I want to tell you that I agree with President Museveni's strategic [objectives]. That is why I am doing this."
Mafabi says that the spontaneous groups spouting to push for the removal of the age limit are testimony to people's support to President Museveni's continued stay and strategic objectives.
"You will see more of these come up... and I don't think anyone is mobilising them," he said.
Pressed further on whether they have never had a conversation about this topic given his closeness to the president, Mafabi alluded to the fact that he took the oath of allegiance and secrecy before taking office.
"The truth is that the president is not manipulating anyone; he has no hidden hand in this. The point he is making is that he is a busy man and it is not yet time to turn his attention to such matters."
At a press briefing in State House, Entebbe, yesterday, President Museveni was asked about Mafabi's activities and he said his man was being provoked.
Below are the resolutions of the Kati Kati meeting.
1. That it is our duty as members of NRM in our Constitution to fight propaganda detrimental to the interests of NRM (Article 9 (2) (d)), explain the achievements of NRM to the population (Article 9(2)(c)) and exercise the right to submit proposals or statements to the National Conference or National Executive Council (NEC) of the NRM (Article 9(1)(f));
2. That the leadership of the NRM urgently initiates wide consultations of its membership on land right matters, as well as urge and mobilize Ugandans to participate and cooperate with the Commission of Inquiry into land matters set up by the President of the Republic of Uganda in 2016, in order to contribute to a comprehensive national consensus Ugandans on land matters;
3. That the leadership of the NRM urgently initiates wide consultation of its membership to determine:
a). Whether or not any Ugandan who is 18 years and above, should be disqualified from being President of the Republic of Uganda;
b). Whether or not term limits should be simultaneously restored;
c). Whether or not a second Chamber of Parliament should be created;
d). Etc;
4. That the NRM widely explains the achievements of the NRM Government and reminds the population of the achievements with a pledge to further improve service delivery;
5. That the NRM reminds its members that the main objective of a political party is to compete for and acquire political power, and urge our members to work for the continued service of Ugandans as well as prepare and front our best candidates to contest for political office, in order to win their electoral mandate and maintain the NRM party in political power in 2021 and the subsequent elections;
6. That these resolution be urgently submitted to the National Chairperson of the NRM, the Secretary General of the NRM - for onward transmission to the National Executive Council (NEC) and Central Executive Committee (CEC) of the NRM, etc - with the aim to generate consensus, correctly advise members of the NRM Parliamentary Caucus and in so doing provide and exercise political leadership in the country, reference Articles 11 (3)(b),(e), and 13 (4)(a) - of the NRM Constitution.