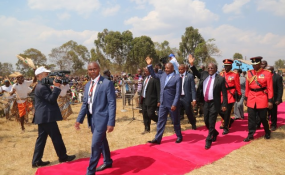 Photo: State House
By Meddy Mulisa
Ngara — President John Magufuli yesterday suspended temporarily the registration and naturalisation of Burundian refugees, urging the immigrants to return home.
But, the president was quick to caution: "It's not that I am expelling Burundian refugees, I'm just advising them to voluntarily return home." The directive followed President Nkurunziza's assurance to Tanzania that his country has stabilised, asking all Burundians outside the country to return home and help to rebuild the nation.
Dr Magufuli directed the Home Affairs Ministry to stop issuing citizenships to Burundian refugees, agreeing with his Burundian counterpart Pierre Nkurunziza that the previously troubled East African nation was hitherto politically stable.
He issued the directive here after meeting and holding mutual negotiations with Burundi's Nkurunziza who was in the country for a one-day working tour. "Some people flee their countries not because of war or conflicts but just because they need different places from their homes.
I urge Burundians to remain in their country, I have been assured, the place is now calm," said Dr Magufuli, noting that the voluntary returns by refugees who had been hosted in the country is testimony to the inviting environment back home.
Home Affairs Minister Mwigulu Nchemba said that hitherto there were about 247,000 Burundians in refugee camps in Kigoma region, noting that between 2006 and 2007, some 160,000 Burundians were granted citizenship and the number has since increased to 200,000.
Mr Nchemba explained that over 150,000 Burundians have voluntarily returned to their country, with 5,000 others having registered for voluntary repatriation. Dr Magufuli reassured Burundi of continued friendship and support to speed up development for the mutual benefits of all citizens of the two neighbouring countries.
"Relations between Tanzania and Burundi have existed for many decades. Tanzanians and Burundians are brothers and sisters. My appeal is for people from both countries to transact business deals in a modern way," Dr Magufuli said, hinting that trade volume between the two countries stood at 117 billion US dollars at the end of last year.
However, he described the trade volume as negligible, arguing that increased trade is inevitable to hasten development. He directed Tanzanian ministers to regularly meet their Burundi counterparts to resume trade negotiations that were dis carded in 2013.
President Nkurunziza arrived in Ngara district yesterday morning and was welcomed by President Magufuli at Remela football ground, in Kanazi Ward. He received a 21-gun salute mounted by members of the Tanzania People's Defence Forces.