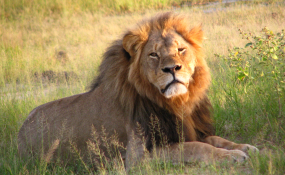 Photo: Varnent
The death of another iconic lion at the hands of a trophy hunter in Zimbabwe is a "devastating loss" that adds to pressures already threatening the species, a leading conservationist has said.
Xanda, the six-year-old cub of his famous father Cecil, was shot and killed earlier this month by a hunter after he wandered out of the sanctuary of Hwange National Park.
It was a grim replay of Cecil's death, who died at the hands of a US bow hunter outside Hwange in July 2015.
More vulnerable
"It (the death of Xanda) is a devastating loss potentially," said Dr Luke Hunter, president and chief conservation officer with Panthera, the global wild cat conservation group.
He said Xanda was a pride lion with his own cubs, and his death would make the members of his pride more vulnerable.
"I think that is a larger concern, as well as just the loss of the individual," Hunter told News24 in an interview from New York.
The conservationist said although Hwange's lion population was "robust" at more than 500, the death of lions to trophy hunters can exacerbate other pressures already threatening the species, like conflict with livestock owners and snaring by poachers.
Risk to survival
"Any additional removal when you haven't got on top of those other causes of lion deaths can be a real challenge, it can be a risk to the survival of that lion population in the long term," he said.
Cecil the Lion was killed in July 2015, triggering a global outcry against trophy hunting. Like Cecil, Xanda was a collared lion. This means he carried a transmitter around his neck to collect data on his movements to help scientists carry out their research.
Although trophy hunting is legal in Zimbabwe, critics say it is unethical for hunters to kill a lion that is clearly being monitored.
More urgent threats
Hunter said despite the controversy surrounding trophy hunting, there are more urgent threats to lions' survival. He said his group is working to combat these in Hwange by working on conflict mitigation between lions and humans and removing wire snares.
Wire snare poaching not only kills the lions' prey, it also kills or maims lions, he said.
"Our focus on Hwange and elsewhere has really been on these things which collectively kill many, many more lions than trophy hunting each year," he said.
"They're really the priorities that need to be addressed urgently."
News24