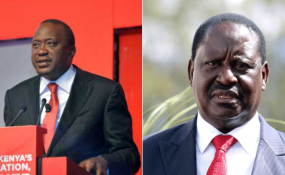 Photo: allafrica.com
By Ouma Wanzala
The race for State House remains tight, with Uhuru Kenyatta and Raila Odinga locked in a fierce battle, latest Ipsos poll shows.
The approval rating of Mr Kenyatta has dropped by a poing while that of Mr Odinga has risen by a similar margin, the poll released on Sunday shows.
Mr Kenyatta has the backing of 47 percent of Kenyans, from 48 at the end of June, while Mr Odinga is at 43 per cent from 42 per cent.
Ipsos Lead Rearcher Tom Wolf ruled out a possibility of a run-off, saying the election will will be won in round one.
Voter turn-out, he said, will be key in determining who-- between Mr Kenyatta and Mr Odinga-- will carry the day.