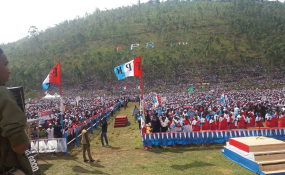 Photo: Athan Tashobya/ New Times
By Jean d'Amour Mbonyinshuti
Frank Habineza will boost infrastructure development and turn Kibeho hill into a global touristic heritage once elected president on August 4.
The Democratic Green Party of Rwanda presidential candidate was yesterday campaigning in Nyaruguru District at Kibeho site, a place known as a 'holy land' given the said manifestation of the Mary the mother of Jesus on the hill.
"We are happy to have this holy land but I believe we can make it more accessible and have better roads and other amenities to ensure more tourists are attracted to the area," he said.
Habineza said he will also make sure Kibeho is listed on the world heritage sites under UNESCO.
He said he would lift the freeze on used clothes, saying the country should first have the capacity to locally manufacture clothes for Rwandans before used clothes can be banned.
Supporters welcomed his manifesto but insisted that much has been achieved under the current leadership.
Habineza adjourned his second rally in Huye District, citing "technical problems."
He will be campaigning in Bugesera District today and in Kayonza and Rwamagana districts in Eastern Province tomorrow.