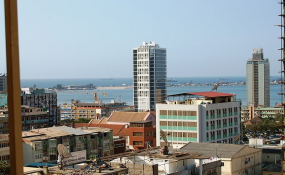 Photo: oneVillage Initiative
Cabinda — Three hundred citizens from the Democratic Republic of Congo (DRC) were detained and expelled administratively to their country, in the last seven days, by the Migration and Foreigners Service (SME), for illegal stay in the northern Cabinda province.
According to the weekly report of the provincial police command that reached Angop on Sunday, the referred illegal immigrants were repatriated through the border posts of Yema, Massabi and Chingundo.
The police report said that 62 foreign nationals, including 54 from the DRC and eight from Congo Brazzaville, had been detained for the violation of the Angolan border.
It should be recalled that the provincial director of SME, Firmino de Jesus Samavie, invited last Friday at a press conference, foreigners in irregular migration situation to leave the province of Cabinda, as from Monday, under the penalty of being expelled out.
The official also called on national citizens not to give shelter to illegal immigrants, not to incur to the crime of aid to illegal immigration, and the appeal also extends to employers who employ foreigners in irregular migration situation.