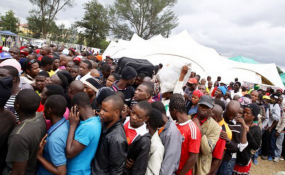 Photo: Rosário dos Santos/Angop
Luanda — Five Egyptian doctors arrived Sunday in Luanda, en route to Lunda Norte province, where they will provide humanitarian assistance to refugees from the Democratic Republic of Congo in Angolan territory.
According to a press release from the Egyptian Embassy in Angola, which reached Angop on Sunday, the professionals are linked to the Coptic Orthodox Church of Egypt and represent the St. Paul Medical Services Organization (St. Paul).
The technicians will work under direct dependence of the Ministry of Health of Angola and the Embassy of the Arab Republic of Egypt in Angola, represented by the minister Luís Sambo and the ambassador Khalid Abdel Rahman Hassan, respectively.
The Embassy Press Release defines the mission as "an opportunity to strengthen relations between the two sister countries", Egypt and Angola.
According to the document, the St. Paul Medical Services Organization has already supported humanitarian projects in African countries such as South Sudan and Malawi.