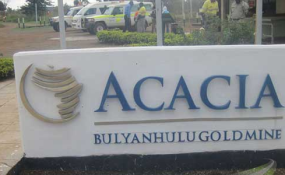 Photo: The Citizen
PRESIDENT John Magufuli has demanded Barrick Gold Corporation Chairman, Prof John Thornton to honour his pledge of coming to the negotiation table with the government on how they will compensate Tanzania over mineral concentrates or risk closure of the mines.
Addressing a public rally at Kakonko in Kigoma, Dr Magufuli said should they fail to show up at the discussion table over the mineral saga; their mines will be given to locals so that they can pay revenue to the government.
The President, who is on an official tour of Kigoma Region, gave the ultimatum when laying a foundation stone for the construction of a 50-kilomtre Kibondo-Nyakanazi tarmac road.
Prof Thornton, Chairman of the parent company of Acacia Mining jetted into the country in June, this year and met President Magufuli to discuss the mineral sand saga and he agree to dispatch his team to the country who will meet with that of the government and jointly discuss the mine sand report findings and pay all losses the country incurred.
Barrick Gold Canada is the largest shareholder of Acacia Mining Company with 64 per cent stake. On March, 2017 the export of the mineral concentrates from Tanzania was stopped through a Presidential directive.
"Acacia Mining must meet so that we discuss on how they will settle a festering dispute over taxes, royalties and exports, for the country to enjoy the mineral blessings for economic wellbeing," he cautioned.
He said that he has poured all weight over the issue, thus if there is anything bad that will happen, then he will face it for the sake of Tanzanians. "If we were getting our real share from mineral ore exportation, there would be no complaints over food shortages.
This is an economic war, which we should stand together regardless of our political affiliation," he said A government audit of Acacia found that it had 10 times more gold in containers prepared for export than it had declared and that the concentrates included a number of undeclared minerals.
He commended parliamentarians for having joined hands in support of government efforts to ensure that bad mining laws are amended for national interest.
President Magufuli on the other hand assured residents in that area that he has directed the responsible minister to visit the area and see how best to address the water shortage.
He used the occasion to remind Chama Cha Mapinduzi (CCM) members to be keen in their elections and anyone found to have been involved in corruption then his/her name will be deleted from the list of contestants.
Mr Magufuli wants to reform the country's mining industry, an important source of foreign exchange and has launched audits of the sector, which accounts for 4 per cent of Tanzania's gross domestic product (GDP).