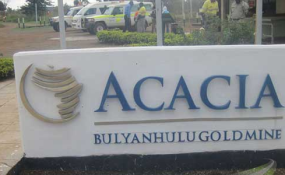 Photo: The Citizen
By Abduel Elinaza
ACACIA Mining has reported a pre-tax profit marginal drop in the first half, blaming mineral sand concentrates ban. The miner reported a pretax profit drop to 99.5million US dollars in six months to June from 101.6million US dollars in 2016.
Acacia Chief Executive Officer Brad Gordon said the first half posed significant challenges to their operations in the country after the introduction of the concentrate export ban in March.
"(However)... I am pleased with how we have performed in light of this," Mr Gordon said in a statement yesterday. The CEO added: "It is a complex and fluid situation which has led to a significant reduction in our cash balance."
Acacia, listed in Dar bourse, saw its cash balance shrunk to 176 million US dollars from 318 million US dollars, as a result of being unable to realise 175 million US dollars of revenue during the half together with a 51 million US dollar VAT outflow.
Mr Gordon said in spite of the challenges they faced, they delivered the highest first half (H1) production in the history of the company, with gold production of 428,203 ounces.
All-in Sustaining Costs (AISC) for the first six months was 893 US dollars per ounce sold, 5.0 per cent lower than H1 2016. "... And if we had been able to sell all of the concentrate produced, AISC would have been approximately US$800 per ounce," he said.
Acacia now target to lower end of the production guidance range of 850-900,000 ounces for 2017 reflecting the impact of the ban. On the other hand due to strong cost discipline, the biggest gold miner in the country and listed in FTSE, are leaving AISC guidance unchanged.
"As a result of the negative cash flow, no interim dividend has been declared, in-line with the cash flow based dividend policy," the statement said. The announcement took a toll on the share after falling down 10.24 per cent to 252.06p in the morning trading yesterday.
Financial performance was significantly impacted by the ongoing ban on exporting concentrate when revenue in H1 was lower 22 per cent to 391.7 million US dollars compared to similar quarter last year.
The firm, however said, three mines, North Mara, Buzwagi and Bulyanhulu, continue to produce and sell gold core whilst stockpiling gold/copper concentrate.
At the end of last month, Acacia had approximately 127,000 ounces of gold, 8.3 million pounds of copper and 107,000 ounces of silver contained within unsold concentrate.
"Our cost guidance is inclusive of the payment of the higher royalties and clearing fee, which are currently being paid under protest. "In light of ongoing developments in Tanzania, we continue to assess our capital expenditure and now expect this to be between US$180200 million for the year as we defer non-essential spend," Mr Gordon said.
Acacia has been hard hit by two presidential team report that showed the mining firm was under declaring their mineral export sands. But the miner repeatedly denied the allegations.
Also the two sets of new mining laws passed by the Parliament last month also poise a difficult future ahead. The company's share price has nearly halved since the ban on concentrate exports was first announced in March.