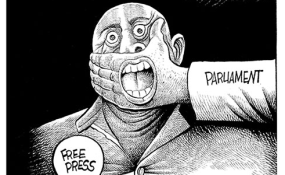 Photo: Godfrey
editorial
Despite having a strong legal framework, the fight against corruption in Zambia is still hampered by a lack of compliance, weakened and threatened institutions as well as a lack of confidence in anti-corruption bodies. These observations appear in a 2017 report published by the Open Society Initiative for Southern Africa (OSISA).
Titled 'Effectiveness of Anti-Corruption Agencies in Southern Africa', and launching in Lusaka, Zambia today, the report also covers Angola, Botswana, the Democratic Republic of the Congo (DRC), Lesotho, Malawi, Mozambique, Namibia, South Africa, Swaziland and Zimbabwe. It emanates from a study that sought to investigate, in depth, the nature and character of anti-corruption agencies in southern Africa, as well as document their successes and failures.
Established in 1980, Zambia's Anti-Corruption Commission (ACC) has had, over the years, its work enhanced by the adoption of key laws, including those that protect whistleblowers. The ACC has also increased its engagements with major stakeholders, including civil society and media. However, its independence is often questioned, especially considering that the ACC head and commissioners are all appointed by the president. Also, the ACC is not easily accessible to the majority of the population. Out of the over 100 districts in the country, the commission is only present in 11.
Zambia ratified the SADC Protocol Against Corruption in 2003, the African Union Convention on Preventing and Combating Corruption in 2007 and the United Nations Convention Against Corruption in 2007 as well. These instruments have, to varying degrees, been domesticated and have expression in the country's substantive laws aimed at fighting corruption. However, as the report notes: "despite Zambia signing, ratifying, and domesticating most international instruments on corruption, their actual implementation and record of compliance has not been very impressive."
Transparency International Zambia (TIZ) is a chapter of the global civil society organization, Transparency International (TI) dedicated to the fight against corruption and the promotion of good governance through transparency, accountability and integrity in the discharge of public functions.