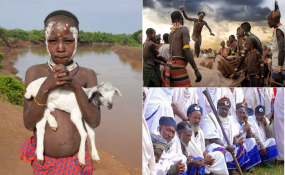 Photo: allafrica.com
By Abiy Hailu
The absence of intellectual property (IP) system that accommodates and delivers patent rights to communities for their Indigenous Knowledge Systems (IKSs) has opened doors for theft, misuse and biopiracy.
Internationally the need for intellectual or patent right for IK, which is also known as traditional knowledge or local knowledge, has been a major issue of debate for the last ten years at the World Intellectual Property Organization (WIPO).
WIPO member states agreed that indigenous knowledge is important and should therefore be valued, recognized and protected. Accordingly, the Intellectual Property Laws Amendment Act, 2013 (IPLAA, 2013) seeks to protect indigenous communities from exploitation by individuals, corporate and multinational companies.
That is why the Ethiopian Intellectual Property Office (EIPO) is working to prepare information archive of IK while a draft law that would give protection to the country's IK is being discussed. Besides, Ministry of Culture and Tourism is also in the process of building national IKSs centre.
Tadesse Worku is Traditional Knowledge Development Team Leader at EIPO. He says the main task of the team is to set up a system where IK is protected and preserved through intellectual property system.
According to him, there is ongoing debate on the issue of IK and IP. There is a philosophy that claims IK should not be protected through patent rights and should remain in the public domain so that researchers can access and study them easily.
On the other hand, there is a commonly held stance, especially in African and other developing countries, that these sentimental values should be protected through intellectual property.
EIPO is mainly focusing on IK that has economic value, according to Tadesse. At national level, IK faces three major challenges attributable to the absence of specific IP law.
IK theft through patent right and intellectual property rights particularly of biopiracy is a major challenge. "For instance, one might get the knowledge of traditional medical practices from practitioners in communities and come up with a new innovation or medicine," he tells The Ethiopian Herald. "This causes unfair treatment on the indigenous population who originally owns the knowledge."
There is also strong argument that such innovation should benefit the locals. For instance, the case where a person gets a patent right in Netherlands by claiming he came up with a new method of preparing quality flour of teff though he originally used IK.
"So what the office is doing is to systematically register the country's IK through an information archive and make it accessible to patent investigators so that they cross check whether the innovation is really new or not," he emphasizes.
The young generation does not have adequate knowledge on age long IK. "We have developed a model system of IP that would help ease this issue and encourage local communities to share their knowledge without being mistrustful," he says.
Ethiopia's IK is not well developed. The initiative of EIPO's team facilitates means so that further research is conducted on the IK. "With this, traditional health practitioners would be open and willing to work closely with modern health practitioners and scientists in research. This would open a door for the development of IK," according to Tadesse.
The preparation of a draft law is at its early stage believed to protect IK through special IP as the regular IP or patent rights could not accommodate it. And discussions are being held on the law in different higher learning institutions. The draft law specifically targets traditional medicine technical know-how and cultural expressions that have economic value, for instance in textile production and fashion. But it would take a long time for the law to become effective, according to EIPOs.
The lives of some 80 per cent of Ethiopians are directly or indirectly associated with IK says Alemayehu Getachew, Language and Common Cultural Values Director Ministry of Culture and Tourism.
"For instance, though we still import metal, some communities in Ethiopia have the knowledge of extracting metal from soil," Alemayehu underlines. "That is how they have been producing for instance agricultural equipment for centuries."
He argues, it would be difficult to transform the nation through western or eastern knowledge alone. Hence it is timely to give due attention to the development of IK.
"In some areas, they have their own knowledge of organic contraception; they know what type of plant they should use to prevent unwanted pregnancy" the director says. This needs further research to upgrade it.
Particularly, the role of the media is critically important to promote IK, as it has been extensively promoting western culture and way of life. As a result, there is gap in the transmission of knowledge from one generation to the other, leaving IK in danger of extinction. "We have not studied our indigenous knowledge in organized manner. Hence we can add value to the global knowledge system by studying, documenting and developing it," Alemayehu stresses.
The ministry has been conducting various forums on indigenous knowledge systems. "We have organized forums on indigenous justice system together with Gondar, Makalle and Mada Walabu universities where around 32 research papers were presented on the issue," reveals Alemayehu.
Some countries have become destinations for cultural medical tourism. The ministry has also held national conference on traditional medicine practices in Jimma where it was stressed that legal loopholes are preventing the development of the practice.
The proceedings of the earlier conferences have been organized and would be unveiled at the 2nd indigenous medicine conference to be held in Arba Minch at the end of this month. A national task force on traditional medicine which includes stakeholders like the Ministry of Health would also be established after the conference.
The next task would be preparing a strategy for protecting, preserving and developing indigenous knowledge. "We are planning to prepare the strategy together with the Ministry of Science and Technology as part of modernizing the IK," he says.
After the strategy is prepared and endorsed at institutional level, it would lead to the establishment of Indigenous Knowledge Research and Development Centre in 2011 which would document IK.