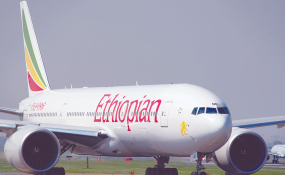 Photo: East African Business Week
By Homa Mulisa
Luring sizable number of multinational companies to the continent attributable to handful attractive incentives and investment friendly environment, Ethiopian Cargo stepped in to curb logistic bottlenecks which some investors raise as a concern.
Aviation, more specifically, air cargo is a key enabler of global economic growth as a number of time-sensitive and perishable goods need to be lifted within a day or an hour as opposed to other transport means that could take up to weeks and months.
According to Air Transport Action Group, the largest economic benefit of increased air cargo connectivity lays in its impact on the long-term performance of the wider economy through enhancement of the overall level of productivity.
Survey indicates that 35 per cent of world trade by value are transported by air accounting for over six trillion US dollars worth of goods.
Pertinent to this, the council of International Civil Aviation Organization (ICAO) President Dr. Olumuyiwa Benard Aliu said that the key to the socio-economic development of the African continent relies on the aviation industry, speaking to journalists in Addis Ababa on the sideline of the Air Cargo Africa 2017.
Highlighting the significance of developing infrastructure for air cargo services, Dr. Aliu further said, "an investment on a 100-km road or railway would connect a town to another town but an investment on an airport would connect you to the whole world".
Cargo development in the continent is very essential mainly because most of the African countries export agricultural and horticultural products, which by large, are the main items of exports. For instance in Ethiopia, perishable products like flowers, fruits, vegetables and meats are traded overseas. And these exports require quick delivery with moderate handling due to their nature that demands a developed air cargo facility. Moreover, leather and textile productions which are now booming in the country to reinforce nation's export are also time sensitive that demands provision of decent logistic service.
Ethiopian endeavours for a breakthrough in air cargo services in the continent in a bid to establish a high tech, high capacity logistic hub for a global flow of commodities, Fitsum Abadi, Ethiopian Cargo Managing Director told The Ethiopian Herald.
"Demand in freight transport, especially in export commodities is booming and the Flag Carrier is catching up with the ever growing demand" he said adding that the newly inaugurated terminal has raised its capacity to a stunning one million tonnes of uplift per annum. A terminal expansion project that would bring an additional 600,000 tonnes uplifting capacity to take the tally to 1.5 million tones is in the pipeline.
Winning a number of awards of excellence and remaining to be the biggest cargo operator in Africa, Ethiopian Cargo intend to continue to be the biggest player in the continent. "We are recently serving 25 destinations in freight fleets in Africa. We uplift a total freight close to a million kilos a day in and out of the country with passenger plane's belly and freight jets. So in general we plan to intensify our services to support the economic move of our nation and the continent", exclaimed Fitsum.
As part of this astounding breakthrough and as a key player at the centre of the continent's emerging economies, the carrier aims to serve 57 destinations world wide with 19 full freight jets.
In this ambitious move, Ethiopian Cargo, with the newly inaugurated and imminent terminal is gearing up to become an integrated logistics service provider in the continent, according to Fitsum. "We are now developing a hub that could appeal to the needs of the emerging industrial parks in the country. Therefore, now we would like to give an integrated logistic service from shipment at the production premises all the way to the intended destination" explained Fitsum.
Upon the launch of this new logistic service, a customer in Hawassa Industrial Park for instance, awards the shipment to Ethiopian Airlines at its premises and tracks it with a single document until it reaches its final destination. Hence, Fitsum said, "we can improve efficiency, save delivery time, improve cost, reliability and consistency of the service for the customer". This in turn will encourage more investors to come to the country, as logistics services would cease to be bottlenecks for exporters.
Speaking to journalists at the same event Ethiopian group CEO Tewolde Gebremariam, who reaffirmed the aviation sector's role for public transport service in Africa, indicated that air cargo is the most important factor for the socio-economic development of the continent than any other part of the world, where infrastructures for other modes of transport are so far underdeveloped.
Africa's export is becoming highly dependent on Air Cargo services through time as investments targeting western market are intensified in the continent, yet freight service providers only comprise for only two per cent of the global air cargo industry, said Tewolde.
Besides reaching the western market, Tewolde highlighted the role of air-cargo services in "promoting intra-Africa trade", as a number of nations in the continent import a variety of commodities from overseas only due to underdeveloped logistic infrastructures in Africa.
He further emphasized the urgency of capitalizing air cargo services throughout the continent in line with the emerging economy, and added "here comes Ethiopian in leading the sector with its highly automated service, modernized facilities and abundant freight jets, in addition to its aviation academy which is the continent's centre of excellence. However, he recommended that all stakeholders in the aviation business in Africa should work together to address the issue of affordability as low cost services haven't significantly grown in the continent.