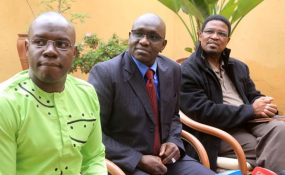 Photo: Jeff Angote/The Nation
By John Ngirachu, Patrick Lang'at
Three fringe presidential candidates last evening described Nasa and Jubilee as among the problems Kenya is facing as they painted pictures of a bright future for the country without tribalism, corruption and bad manners, if elected.
In the first contest of ideas for the men who will be on the ballot, Dr Ekuru Aukot of the Thirdway Alliance and independent candidates Michael Wainaina and Japhet Kavinga Kaluyu were united in condemning their counterparts doing better in the opinion polls.
POPULARITY
If Kenyans wanted a lesson on what is wrong with their country, these three PhD holders had it all mapped out, and each had a solution for it.
None of the three have ever held an elected position.
In the latest opinion polls by Infotrak and Ipsos, this first lot of candidates had the support of one per cent of those sampled.
They did not let that deter them.
TOUGH LEADER
Missing were Mr Abduba Dida, Mr Cyrus Jirongo and Mr Joe Nyagah.
Dr Aukot, who was the chief executive officer of the Committee of Experts that oversaw the drafting of the Constitution, said Kenya needs a strong hand at the top.
"What Kenya needs is a no-nonsense leader, not a benevolent dictator in the normal sense of the word but a leader who will not tolerate bad manners," Dr Aukot, who used Rwanda's Paul Kagame as an example, said.
NEGATIVE TALK
Prof Wainaina said his criticism of the current leadership is based on what they say about each other.
"It is not me who has said these things. They say these things about each other. It is they who call each other thieves.
"It is they who call each other tribalists. It is they who call each other clueless," Prof Wainaina said.
He had clearly done his homework and referred to a newspaper article in which Amani National Congress leader Musalia Mudavadi referred to the leadership in the then Cord and Jubilee as being engaged in "political gangsterism".
TRIBALISM
On tribe, Prof Wainaina said to get the country going, the first priority ought to be getting rid of the kingpins in Nasa and Jubilee, who employ tribalism in the way they run things.
He used the fight against malaria as an allegory. "You can cure malaria but as long as you haven't got rid of the mosquitoes that cause malaria, you are not going anywhere," he said.
After that, he said, one would need to "invest in the young people" and inspire them.
Prof Wainaina said his mission is to leapfrog Kenya from "a primitive, tribal Third World country to the modern world".
INTEGRITY
He criticised the fight against corruption, saying it was destined to fail because "those helping to find the lost goat are the same ones who have taken it".
Dr Kaluyu described himself as "uncompromised, independent" and belonging to no cartel.
He assured Kenya that he will end corruption. He added that he will ensure that anyone caught engaging in corruption would be prosecuted and barred from running for political office.
"If you think of taking money from the public coffers, please start packing because a new sheriff will be in town," Dr Kaluyu said.
HARMONY
On national cohesion, Dr Aukot proposed that his first 100 days in office would be devoted to ensuring regional and ethnic diversity of Kenya as per the Constitution.
"Tribalism is stupidity. I will end it by invoking the Constitution to ensure that we have all communities involved.
"What Kenya needs is a father figure who looks at all the tribes as his children," he said.
REMEDY
Dr Kaluyu said he will end tribalism by being a "good leader", who will consult with people from all walks of life on a solution to the problem.
On corruption, Dr Aukot said corruption had thrived because of lack of political goodwill, and an inability by the leadership to nip it in the bud.
"This is a factor of leadership. We will establish a hall of shame. We will take public officials to see how prisons are bad, and then jail them when they are corrupt. We call it theft of funds, not corruption," he said.
FUNDING
Dr Kaluyu linked corruption to campaign funding, which he said later hits back at the presidential candidates when they get to office.
Dr Aukot said his plan on education is to standardise, modernise and equip schools. He proposed to scrap school fees from primary school to university.
"No country can prosper without investing in education. It is an equaliser that makes me, a nomad from Turkana, now run for president.
"We need to treat the teacher-child ratio, now at its worst at one teacher to 42 pupils," Dr Aukot said.
EDUCATION
Dr Kaluyu said there is a problem with Kenyan education.
"You think of (Education Cabinet Fred) Matiang'i, I will be a Matiang'i on steroids," Dr Kaluyu said on his education plan.
Prof Wainaina defended his education proposals that were said to be at odds with his idea of providing quality education to all, since he owns a private school.
"What I am doing here is to scale up the lessons at my school to other Kenyan schools, especially public ones," Prof Wainaina said.
SCHOOL
He appeared to stumble when it was pointed out by Yvonne Okwara-Matole that owning a private school appeared to be contrary to his stated ideals.
Without explaining, he said that his school, Midas, "teaches students when they are on holiday" and that establishing a private school is one of the most stupid ideas an investor would come up with.