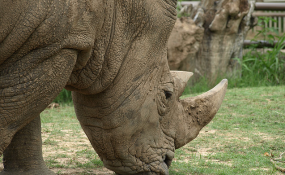 Photo: Topato/Flickr
analysis
For the fifth year in a row, South Africa is set to record a grisly killing rate of more than 1,000 rhinos poached each year (nearly three rhinos each day).The latest statistics - the first official information released by government in six months - show that at least 529 rhinos have been killed by horn poachers nationwide between January and the end of June. Should this killing rate continue unchecked, the final death toll for the year is expected to reach over 1,050 rhinos - almost identical to last year. By TONY CARNIE.
At a media briefing in Cape Town on Monday, Environment Minister Edna Molewa said that compared to last year the number of rhino poached in the flagship Kruger National Park had decreased by 34% (243 animals in the first half of this year, compared to 534 in the same period last year).
But at a national level, the overall statistics show a very slight (2.5%) decrease compared to the first six months of last year - mainly due to a geographic displacement of poaching to other provinces, especially KwaZulu-Natal where about 140 rhinos have been killed so far this year.
"As we have always stated, these declining...