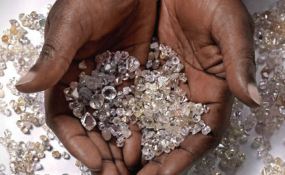 Photo: The Herald
Marange — Two illegal diamond miners sustained serious injuries after they were shot by Zimbabwe Consolidation Diamond Company (ZCDC) guards, it has emerged..
ZCDC, which is wholly owned by the government, took over diamond mining at Chiadzwa in Marange after private companies were forced out of the controversial fields by the Zanu PF-led Harare administration.
Police confirmed the incident saying the panners are currently admitted at Mutare Provincial Hospital (MPH) for treatment under guard
Deputy ZRP provincial spokesperson, Assistant Inspector Luxon Chananda, said the incident occurred in the early hours of July 16 at the former Mbada Diamonds claim.
The pair injured in the incident was identified as Kudzanai Zambuko of Mahoma village under Chief Mutambara in Chimanimani and Chamunorwa Bengura, 38, of Masimbango village under Chief Zimunya.
According to the police, armed company security guards were patrolling the diamond fields on the fateful day and met a group of illegal panners whom they instructed to vacate the area.
However, the group refused to comply, forcing the guards to open fire. Zambuko was hit in the stomach while Chamunorwa sustained a fractured leg.
The two were rushed to the mine's clinic and later transferred to Mutare Provincial Hospital.
"Investigations are still in progress to ascertain what transpired," said Chananda.
Due to high unemployment in the province, local youths from surrounding areas risk their lives by invading the fields at night to pan for diamonds which they sell across the border in Mozambique.