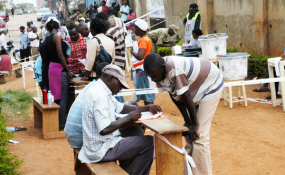 Photo: Daily Monitor
"Like Nairobi's infamous matatus, the election is barreling along, many times on the wrong side of the law, the noise and vitriol of the campaigns drowning out common sense. For the terrified passengers, whether they -- and Kenya -- arrive at the other side in one piece seems to be coming down to a wing and a prayer." - Patrick Gathara
Major global media will likely not pay much attention to the August 8 election until a few days before. But coverage and speculation is intense in the Kenyan press and social media, as well as among other observers of African politics who recognize its critical importance not only for Kenya but for the East African region and for democracy on the African continent.
This AfricaFocus Bulletin contains two commentaries focused on the election more generally, and one highlighting the devastating East African drought, the inescapable background to the August 8 election despite the lack of international attention to this massive humanitarian crisis.
Another AfricaFocus sent out today (and available on the web at http://www.africafocus.org/docs17/ken1707b.php) contains three short commentaries highlighting the continued obstacles facing the participation of Kenyan women in politics, as well as one focusing on the impact of "devolution" in expanding the levels of political contestation to six: "a member of the county assembly (MCA), a women's representative, an MP, a senator, a governor, and a president."
For detailed news coverage, AfricaFocus suggests a custom google search of Kenya-based web sites using the words "Kenya elections 2017 site:.ke" as well as two other news sites aggregating content from different sources: http://allafrica.com/kenya and http://www.tuko.co.ke
Another recent article of interest is: "Kenya is set to hold one of the most expensive elections in Africa," by Abdi Latif Dahir, Quartz Africa, July 18, 2017 http://tinyurl.com/y8s6dysb
The Kenyan Independent Electoral and Boundaries Commission (IEBC) is on-line, with increased computer capacity and availability to check registration and other details, at https://www.iebc.or.ke/.
And there is an extensive analysis of the demographics of the expanded voter roll for the current elections, from DataScience LTD, available at http://tinyurl.com/yamygvsj
For previous AfricaFocus Bulletins on Kenya, visit http://www.africafocus.org/country/kenya.php -- Editor's Note
Why Kenya's upcoming elections should worry the world
By Patrick Gathara
Washington Post Global Opinions, July 21, 2017
http://tinyurl.com/ycvy9cp5
[Patrick Gathara is a strategic communications consultant, writer and award-winning political cartoonist in Kenya.]
Driving in Kenya's capital, Nairobi, can be a nightmare. Not only is one prone to spending endless hours in traffic jams, but also the roads are menaced by brilliantly colored, insanely driven, hulking deathtraps that pass for the city's public transport system. Terrifyingly oblivious to the dangers they pose to both their passengers and other road users, the matatus -- as the beasts are called -- are a perfect metaphor for Kenya as it hurtles toward elections next month.
With three weeks to go, domestic and international observers are concerned with whether the polls will be peaceful and fair. Kenya is still haunted by the the postelection violence of a decade ago, in which at least 1,300 people died and more than 600,000 were displaced from their homes. Many are fearful of a repeat of violence if the credibility of the election is in doubt, as it was in 2007.
There is good reason to worry. Just like in 2007, the campaigns of incumbent President Uhuru Kenyatta and his main challenger, Raila Odinga, have deeply polarized Kenya along ethnic lines; the nation is split down the middle, with polls showing the race tightening as election day approaches. Across the country, there are reports of people moving their families away from ethnically mixed neighborhoods in areas anticipated to be flashpoints of violence, and into tribal enclaves where there is safety in numbers. David Ndii, one of the country's top economists, says flights out of the country on dates surrounding the election are already fully booked.
More disconcerting has been the impugning of the impartiality of the judiciary. In 2007, the opposition refused to entrust the electoral dispute to the courts, providing the spark for the violence. Alongside its poor handling of the 2013 petition against Kenyatta's election, the judiciary has had to endure continuing allegations of corruption. Public infighting has broken out within the Supreme Court, which was specifically established in the aftermath of the 2008 violence to deal with electoral disputes. Now, the opposition has already declared that if it suspects the election to be rigged, it would not be returning to the courts, as it did in 2013. Many fear that this is code for a resort to street protests that may potentially degenerate to violence.
The real fuel for the fire in 2007 was the unresolved legacy of the country's colonial past, which manifests in the form of land conflicts and massive class and regional inequalities. By the time of independence from Britain in 1963, about 60,000 European settlers owned half of all agricultural land in Kenya. Since then, successive kleptocratic governments have preferred to concentrate these areas in the hands of a small elite, further exacerbating land hunger as the population has grown ninefold. This, in turn, has led to the huge wealth disparities with one report showing 62 percent of the country's wealth being owned by just 0.02 percent of the population. The recommendations of a Truth, Justice and Reconciliation Commission, which was meant to help Kenya heal from history, have remained unimplemented; the report itself is gathering dust in Parliament.
The conduct of the Independent Electoral and Boundaries Commission (IEBC) has been a cause for serious concern. One study concluded that "preparations thus far have been plagued by several of the same problems that marred the last election cycle, suggesting a dearth of lessons learned." Time and again, the IEBC has been chastised by the courts over its arrangements for the elections, most recently in cases concerning the finality of vote counts at the county level and its procurement of ballot papers (the latter case was recently overturned on appeal). Worse is the lack of transparency that has characterized the IEBC planning. IEBC finally agreed to provide public access to the registry of voters -- after a questionable audit process. Even at this late stage, there remains little clarity on what "complementary mechanism" the IEBC plans to deploy if electronic and biometric systems -- required for identifying voters and transmitting results from polling stations -- fail as they did in 2013.
Perhaps most damaging to the IEBC's credibility has been the perception that it is doing the incumbent's bidding. This is reinforced by the near-identical positions the IEBC and the governing Jubilee Party have taken on almost every issue, sometimes resulting in party spokesmen purporting to speak for the elections body as well. As far as electoral abuses, the IEBC has been quiet on a series of TV commercials paid for by The President's Delivery Unit, which clearly violate the legal prohibition against the government either advertising its achievements during the campaign period or using public resources to campaign for a particular candidate.
Like Nairobi's infamous matatus, the election is barreling along, many times on the wrong side of the law, the noise and vitriol of the campaigns drowning out common sense. For the terrified passengers, whether they -- and Kenya -- arrive at the other side in one piece seems to be coming down to a wing and a prayer.
Kenyatta or Odinga? Why dynastic politics is alive and well in Kenya
by Nic Cheeseman, Professor of Democracy, University of Birmingham
The Conversation, July 11, 2017
http://theconversation.com - Direct URL: http://tinyurl.com/y8vadsw5
Kenya's general election will be contested by a large number of hopefuls, but in reality it's a two-horse race between Raila Odinga of the National Super Alliance and Uhuru Kenyatta of the Jubilee Party.
Unsurprisingly in a country in which the executive continues to wield a dominant influence, coverage of the campaign has focused on the personalities and records of Odinga and Kenyatta.
What does their candidacy tell us about Kenyan politics in 2017?
The first and most obvious lesson from the 2017 election campaign is that dynastic politics is alive and well in Kenya. Despite all of the contestation, efforts and plotting of rival leaders hoping to push their own ambitions, 2017 will be fought between a Kenyatta and an Odinga, just like the elections of 2013 and the Little General Election of 1966.
The second is that ethnicity only gets you so far. In 2013, Odinga outperformed rival presidential candidate Musalia Mudavadi within his own Luhya community. This was possible because while Odinga was seen to be a credible opposition leader, Mudavadi's dalliance with Kenyatta - with whom he formed an extremely short-lived alliance - raised concerns that he was a State House puppet. Kenyatta's recent rehabilitation as the dominant leader among the Kikuyu community following his electoral humiliation in 2002 also demonstrates this point well.
So who are the two leading contenders?
Odinga, the opposition stalwart
Raila Odinga is the son of Oginga Odinga, a prominent independence leader and Kenya's first vice president who never realised his dream of occupying State House. Like his father, Raila has campaigned tirelessly against considerable odds, and has so far been unsuccessful. He narrowly lost elections in 2007 - when many believe he was rigged out - and in 2013.
Odinga's great ability is to be able to mobilise well beyond his own Luo community, and to sustain his political party - the Orange Democratic Movement for a decade. Given that most Kenyan parties collapse within a few years, this is some achievement.
The breadth of Odinga's support base is also impressive. In 2013 he performed well among Luhya voters in Western Kenya, Kamba voters in Eastern Kenya and also at the Coast.
Odinga's capacity to mobilise support across ethnic lines has two sources. On the one hand, he receives some votes "second hand" as a result of the efforts of his allies from other regions and ethnic groups to direct rally their communities to his cause.
On the other hand, he's built a strong reputation for representing historically economically and politically marginalised communities. Indeed, while he has never secured the presidency, he has contributed to political reform. Most notably, Odinga played an important role in bringing about constitutional reform in 2010 that introduced devolution and hence a degree of self-government for the groups in his coalition.
Kenyatta, born to power
In contrast to Odinga, Uhuru was born into power as the son of the country's first president, Jomo Kenyatta, and secured the presidency in the 2013 general election having previously failed to do so in 2002.
Kenyatta's supporters like to say that he was born in State House, and hence born to power, although this is not actually true. But it is true that he has spent his life close to the machinery of government, and his family's political influence and wealth give him a clear advantage in the elections. His gift is to be able to look and sound presidential when he has an important speech to make, despite his playboy lifestyle.
Although it's tempting to see Kenyatta's rise to power as inevitable, this is not the case. In 2002, he failed to mobilise support among his own community because he had been selected by the outgoing Kalenjin President Daniel arap Moi to be his successor. He was then widely seen to be a proxy for Moi's interests. At that point, his political career appeared to be over.
It was not until Kenyatta developed a reputation for defending Kikuyu interests by allegedly funding and organising militias in the violence that engulfed the 2007 elections that he emerged as the dominant figure within the Central Province. It is for this alleged role that he faced charges (that were subsequently dropped) of crimes against humanity at the International Criminal Court. This, and his electoral alliance with his co-accused - the influential Kalenjin leader William Ruto - were critical factors in his victory in 2013.
The 2017 race
During the campaign Kenyatta and Odinga have been a study in contrasts.
While Odinga stresses his intention to shake things up, Kenyatta presents himself as a safe pair of hands who will protect the status quo.
While Odinga plays up his image as the representative of the excluded, promising to deepen devolution and invest in poorer areas, Kenyatta emphasises building a national infrastructure and maintaining economic growth, arguing that the gains of the rich will trickle down to benefit all Kenyans in time.
These images are further entrenched by the criticisms that each leader makes of the other. Jubilee caricatures Odinga as an unprincipled thug who cannot be trusted with the fine art of government. For its part, the National Super Alliance charges that Kenyatta is out of touch and only interested in serving the interests of the wealthy within his own community.
Some complain that these differences are more rhetorical than real, one thing is clear. In fact Kenyans have a real choice to make at the ballot box.
Election outlook
The greater resources available to Kenyatta, along with the more professional team around him, mean that the opposition faces an uphill battle. Moreover, government interference with the media - which is regularly intimidated - means that while election reportage is vibrant some of the stories that would most hurt the government don't make it on to the front pages.
It's therefore not surprising that, at the time of writing, Kenyatta enjoys a small but significant lead in the polls. A series of surveys conducted by different companies using different samples have put him on around 48% of the vote, with Odinga on around 43%. These polls suggest that about 8% of Kenyans remain undecided. This suggests that Raila can still win, but to do so he will have to capture the vast majority of "floating voters" in the last month of campaigning.
However, if undecided voters divide equally between the two main candidates, Kenyatta looks set to end up on something like 52% - surpassing the 50%+1 threshold for a first round win - with Odinga on 47%.
Given this, the record of no sitting Kenyan president ever having lost an election may survive for a while yet, despite the momentum behind the opposition. Although the country has made real democratic strides with its new constitution, the advantages of incumbency remain formidable.
East Africa's Poor Rains: Hunger Worsened, Crops Scorched, Livestock Dead
By IPS World Desk
IPS News, July 19, 2017
http://tinyurl.com/y76xrtxq
Rome, Jul 19 2017 (IPS) - Poor rains across East Africa have worsened hunger and left crops scorched, pastures dry and thousands of livestock dead, the United Nations food and agriculture agency has warned in a new alert.
The most affected areas, which received less than half of their normal seasonal rainfall, are central and southern Somalia, South-Eastern Ethiopia, northern and eastern Kenya, northern Tanzania and north-eastern and South-Western Uganda, according to a new alert by the UN Food and Agriculture Organization (FAO).
The alert, issued on 14 July by FAO's Global Information and Early Warning System (GIEWS), warns that the third consecutive failed rainy season has seriously eroded families' resilience, and urgent and effective livelihood support is required.
"We can prevent people dying from famine but if we do not scale up our efforts to save, protect and invest in rural livelihoods, tens of millions will remain severely food insecure." - FAO chief
"This is the third season in a row that families have had to endure failed rains - they are simply running out of ways to cope," said FAO's Director of Emergencies Dominique Burgeon. "Support is needed now before the situation rapidly deteriorates further."
Increasing Humanitarian Need
The number of people in need of humanitarian assistance in the five aforementioned countries, currently estimated at about 16 million, has increased by about 30 per cent since late 2016. In Somalia, almost half of the total population is food insecure, the UN specialised body reported.
Timely humanitarian assistance has averted famine so far but must be sustained. Conditions across the region are expected to further deteriorate in the coming months with the onset of the dry season and an anticipated early start of the lean season, it added.
The food security situation for pastoralists is of particular concern, in Ethiopia, Kenya and Somalia, where animal mortality rates are high and milk production from the surviving animals has declined sharply with negative consequences on food security and nutrition, FAO warned.
"When we know how critical milk is for the healthy development of children aged under five, and the irreversible damage its lack can create, it is evident that supporting pastoralists going through this drought is essential," said Burgeon.
Poor Crop Prospects
On this, FAO provides the following detailed information:
In several cropping areas across the region, poor rains have caused sharp reductions in planting, and wilting of crops currently being harvested. Despite some late rainfall in May, damage to crops is irreversible.
In addition, fall armyworm, which has caused extensive damage to maize crops in southern Africa, has spread to the east and has worsened the situation. In Kenya, the pest has so far affected about 200 000 hectares of crops, and in Uganda more than half the country's 111 districts are affected.
In Somalia there are unfavourable prospects for this year's main gu crops, after the gu rains were late with poor rainfall and erratic distribution over most areas of the country.
In Ethiopia, unfavourable belg rains in southern cropping areas are likely to result in localized cereal production shortfalls. Drought is also affecting yields in Kenya's central, Southeastern and coastal areas.
In Tanzania, unfavourable rains are likely to result in localized cereal production shortfalls in northern and central areas; while in Uganda there are unfavourable production prospects are unfavourable for first season crops in the Southwestern and northern districts.
108 Million People Face Severe Acute Food Insecurity
Meanwhile, despite international efforts to address food insecurity, around 108 million people living in 48 food-crisis countries were at high risk of or already facing severe acute food insecurity in 2016, a dramatic increase compared with 80 million in 2015, according to a new global report on food crises released on 31 March in Brussels.
The report, whose compilation required integrating several measurement methodologies, represents a new and politically innovative collaboration between the European Union (EU) and USAID/FEWSNET, regional food security institutions together with UN agencies including the FAO, the World Food Programme (WFP) and the UN Children's Fund (UNICEF). "The dramatic increase reflects the trouble people have in producing and accessing food due to conflict, record-high food prices in local markets in affected countries and extreme weather conditions such drought and erratic rainfall caused by El Niño. "
Civil conflict is the driving factor in nine of the 10 worst humanitarian crises, underscoring the strong linkage between peace and food security, says the Global Report on Food Crises 2017.
By joining forces to deliver neutral analytical insights drawn from multiple institutions, the report - to be issued annually - enables better-informed planning decisions to respond to food crises in a more timely, global and coordinated way.
"This report highlights the critical need for prompt and targeted action to effectively respond to the food crises and to address their root causes. The EU has taken leadership in this response. In 2016, we allocated € 550 million already, followed by another € 165 million that we have just mobilized to assist the people affected by famine and drought in the Horn of Africa," said Neven Mimica, EU Commissioner for International Cooperation and Development.
"The report is the outcome of a joint effort and a concrete follow-up to the commitments the EU made at the World Humanitarian Summit in Istanbul, which identified the urgent need for transparent, independent but consensus-based analysis of crises," added Christos Stylianides, Commissioner for Humanitarian Aid and Crisis Management.
Most Critical Situations Worsening
This year, the demand for humanitarian and resilience building assistance will further escalate as four countries are at risk of famine: South Sudan, Somalia, Yemen and northeast Nigeria, the report warns.
"The cost in human and resource terms only increases if we let situations deteriorate," said FAO Director-General José Graziano da Silva. "We can prevent people dying from famine but if we do not scale up our efforts to save, protect and invest in rural livelihoods, tens of millions will remain severely food insecure."
"The numbers tell a deeply worrying story with more than 100 million people severely food-insecure, a level of suffering which is driven by conflict and climate change. Hunger exacerbates crisis, creating ever-greater instability and insecurity. What is a food security challenge today becomes tomorrow's security challenge," said Ertharin Cousin, Executive Director of the World Food Programme.
"It is a race against time - the world must act now to save the lives and livelihoods of the millions at the brink of starvation."
The 108 million people reported to be facing severe food insecurity in 2016 represent those suffering from higher-than-usual acute malnutrition and a broad lack of minimally adequate food even with external assistance.
This includes households that can cope with their minimum food needs only by depleting seeds, livestock and agricultural assets needed to produce food in the future, the report adds.
"Without robust and sustained action, people struggling with severe food insecurity risk slipping into an even worse situation and eventual starvation."