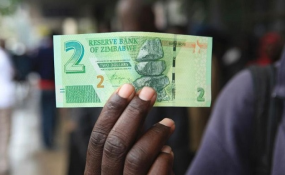 Photo: The Herald
Government advisor and University of Zimbabwe lecturer, Ashok Chakravarti, says the liquidity crunch will continue as long as the US dollar remains in circulation.
He was speaking at the Confederation of Zimbabwe Retailers' breakfast meeting in Harare Tuesday.
Chakravarti told business delegates, "It is a big mistake for the government to continue using the US dollar in the economy. I have told officials several times and I will keep repeating the same."
"Dollarization is a dead end unless the country has a source of US dollars. Shortage of US dollars has resulted in premiums between real USD and Real Time Gross Settlements (RTGS). Zimbabwe has no regular source of US dollars," Chakravarti said.
He said the country has integrated into the South African economy hence the need to adopt the Rand.
"Adopt the Rand as currency of circulation within multi-currency system. Rand is a weak currency and non-externalisable.
"We should go the route of the Rand. We all know South Africa has no problems having its currency circulating in Zimbabwe."
Chakravarti urged the Central Bank to accept that the Bond dollar is now a local currency and allow it to trade freely with other currencies within multi-currency basket.
"Let the market establish exchange rate for bond dollar," he said.
He added, "By December, 2017 Bond Notes may be 50 percent of the currency in circulation. It is then no longer a surrogate currency but a new Zimbabwe dollar."
"By April 2017, about $440 million has been circulating on the market with US$67 million, Nostro accounts with 219 million, 164 million bond notes and up to only 7 percent deposits not enough for the economy. The US dollar makes us uncompetitive."
He advised the RBZ not to peg the Bond note at 1: 1 with the USD.
"This is a problem. This pegging should be removed and let the bond trade freely, and legally with no red lights."