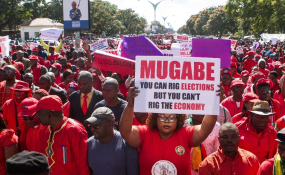 Photo: The Standard
Zimbabwe's main opposition, the Movement for Democratic Change (MDC) party has appealed to regional and international bodies to rein in President Robert Mugabe over an upsurge in politically motivated violence in the southern African country.
Mugabe told his party faithful at a rally held at Somhlolo Stadium in Lupane district last week that his supporters should beat-up people going around perpetrating violence using his ruling Zanu-PF party's name.
Following Mugabe's remarks, the MDC said violence had taken a nasty turn in the countryside and now wanted the Southern African Development Community (SADC), the African Union (AU) and the United Nations (UN) to step in ahead of next year's general elections.
This came after three thatched houses belonging to an MDC activist, Tendai Nyachuru of Nyachuru Village in Mazowe district of Mashonaland Central Province, a Zanu-PF stronghold, were set ablaze by suspected Zanu-PF members in the early hours of Tuesday.
Nyachuru told News24 that all his property, including clothes and national documents of his entire family, were destroyed in the inferno.
"The assailants came to my rural home at night and burnt the houses as were sleeping. My family is lucky to be alive after we escaped the fire that gutted all the thatched houses; Zanu PF members are responsible," said Nyachuru.
The torching of Nyachuru's homestead came a few days after MDC vice president Elias Mudzuri had his nightclub set on fire by unknown assailants. Again, the MDC said Zanu-PF was responsible.
Police spokesperson Charity Charamba could not be reached for comment.
MDC national spokesperson Obert Gutu told News24 that it was high time Mugabe was reined in order to "avoid a bloody election".
Said Gutu: "SADC, the AU and even the UN, must now get involved to stop the violence that is spreading. If Mugabe and his people are allowed to pursue this violent path we are going to lose lives."
News24