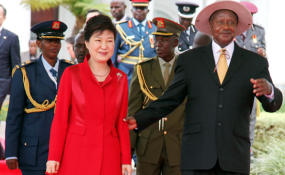 Photo: Stephen Wandera
TANZANIA'S businesses have full government support as they seek to partner with established Korean institutions to enhance capacity, boost, profitability and growth, the Minister for Works, Transport and Communication, Prof Makame Mbarawa has said.
He said at a dinner hosted by Keb Hana Financial Group of Korea in Dar es Salaam on Tuesday that growing partnership between Tanzanian businesses and established Korean institutions would help drive growth and boost industrialisation.
"Innovation will continue to be a key driver with Tanzanian companies borrowing a leaf from Korea's growth path. The government encourages small and medium enterprises to take advantage of this framework and learn from progressive Korean business models," he said in a speech read on his behalf by his deputy, Edward Ngonyani.
He told the dignitaries who included the Korean Ambassador to Tanzania, Song Geumyoun, Group's Chairman and CEO of Keb Hana Financial Group of Korea, Jung Tai Kim and the President and CEO of Keb Hana Card, Ching Soo-Jin, that the government fully supported all efforts being made in taking advantage of established trade cooperation between the two countries," he said.
Tanzania was keen to strengthen technological ties with partners willing to invest in her growing economy, he said adding that technology innovations from Korea have helped to boost many sectors in the economy such as health, education, energy, ICT and industrialisation.
"As a country we desire to become an economic, industrial and technological powerhouse in the region. Today's dinner is in honour of this newly founded principle that we can all come together to celebrate how far we have come in attracting investors such as Keb Hana and providing an enabling environment for expansion of their business into Tanzania," he said.
He said Tanzania has taken a focal point as the beacon of technical innovations in the financial inclusion area and was pleased to see many Korean companies coming in to partner with local business community.
The minister lauded efforts undertaken by Korean Trade Investment Promotion Agency which has seen Tanzanian businesses get access to partnership opportunities in Korea and further gain experience required to take the vision of transforming the nation to become an industrialised economy.
I therefore encourage Tanzanian organisations to work with Korean institutions such as yours in fostering this goal as we seek to find viable solutions to challenges of business growth," he said.