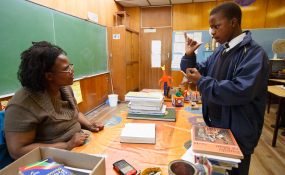 Photo: WycliffeSA/Flickr
The Constitutional Review Committee in Parliament has recommended that Sign Language be declared the 12th official language in SA, a language board has said.
The Pan South African Language Board (PanSALB) released a statement on Thursday acknowledging "the positive step".
"The committee is recommending that section 6 (1) and (5) (a) be amended to include SA Sign Language as an official language. The committee accepted the fact that, the issue of addressing the proposal for declaring SASL as an official language was long overdue," said PanSALB spokesperson Sibusiso Nkosi.
He added: "The necessary formalities should be made by Parliament to ensure the amendment of the Constitution to accommodate this."
PanSALB chief executive officer Dr Rakwena Monareng said Sign Language, like any other official language is a "fundamental human right that should be treated equally.
"We have made several crucial calls to government to prioritise sign language like any other formal language and efforts have for a very long time drawn blank. This was done on the basis that we believe it has been violated and marginalised as compared to other languages," Monareng said.
Implications
He added that he was looking forward to working with the department of education to help the promotion of Sign Language.
Speaking to News24, director for the Centre of Constitutional Rights Phephelaphi Dube said that state institutions would first be affected by the addition of Sign Language as an official language.
"All state institutions, schools hospitals, government departments would need to have personnel who know Sign Language and can communicate in it."
She said that because it would become a constitutional right, the private sector would also have to fall in line.
"It would mean the private sector itself - say banks for example - would have to take steps so members of the public interact with Sign Language."
Dube further welcomed the proposed amendment to the Constitution.
"This is a manner of ensuring there is greater inclusivity in the SA context: A means of achieving further equality and not just on paper. It is a measure that we welcome."
She said it was hoped that implementation would be concise.
Source: News24