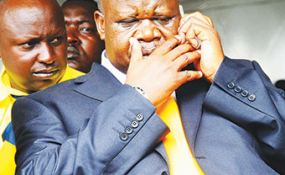 Photo: The Observer
By James Kabengwa
Wakiso — Justice and Constitutional Affairs minister, Maj Gen Kahinda Otafiire, has lost a prime piece of land at an upscale residential area on Entebbe Road, Wakiso District after the Ministry of Lands cancelled his land title.
Gen Otafiire's land title is among the 46 land titles which were allegedly issued fraudulently by some ministry of Lands officials.
The cancellation of the land titles followed a complaint by Ms Kateera & Kagumire Advocates acting on behalf of Mitchell Cotts Uganda Ltd, who complained to the Ministry of Lands that various plots marked between 2926 and 2970 had illegally been parcelled out on Block 269 at Lubowa Hill on Kampala-Entebbe road.
The acting commissioner of Lands Registration, Mr Opio Robert, on May 15 wrote to Gen Otafiire, Hassan Ssemujju, Ibrahim Mulumba, Aloysious Sseruwaji, Willis Murozi and Global International Alliance Limited, notifying them about the ministry's intention to cancel their titles.
Mitchell Cotts Uganda Ltd already has a freehold title registered under Volume 82 Folio 1, Gen Otafiire and others also possess freehold titles on the same which are said to have been erroneously and illegally issued, according to Mr Opio's letter.
"The certificates of titles in your possession were allegedly carved out of Plot 2827, measuring 0.051 hectares yet the total acreage of Plot 2827 is 13.77 hectares which is impossible. This is an indication that the plots created have no root," Mr Opio wrote.
By law, Mr Opio wrote, parallel certificates of title cannot legally co-exist on the same piece of land and a title issued first, takes precedence over the title issued later.
"Registration of a document does not cure any defect in a land transaction nor does (it) confer validity to a certificate of document... .. It therefore follows that your titles are null and void and ought to be cancelled," Mr Opio wrote inviting the affected parties to a hearing which sat on June 14. But the hearing didn't change anything. All the titles were cancelled.
"I can confirm to you that the ministry cancelled all those titles," Mr Johnson Mukaaga, ministry of Lands Wakiso Zonal head, said on Wednesday.
But Gen Otafiire yesterday told Daily Monitor that he will go to court to challenge the cancellation of his land title.
"That's a matter for the courts of law. So, is it a matter for publication? If it (Ministry of Lands) cancelled my titles wrongly or rightly, we shall go to court and court will determine," Gen Otafiire said by telephone.
The minister declined to reveal who he bought the land from.
According to documents from the ministry of Lands, and obtained by Daily Monitor, the same land is registered in the names of Yusuf Kiwewa on Volume No.273 on final certificate 18570 PC No. 6726, Folio 15 Kyadondo Wakiso-Mengo.
On May, 21, 2013, a special title and a substitute tile was made for Mitchell Cotts Uganda Ltd at 9.40 am. But ironically, former commissioner for Lands Registration, Ms Sarah Kulata, instructed for their issuance in a letter on June 29, 2013 a month after the title was already out.
"The registered original owner is Prince Yusuf Ssuuna Kiwewa who was one of the sons of King Mwanga and is our grandfather," Prince Kimbugwe Nakibinge, one of the surviving grandchildren of late Buganda King Ssekabaka Mwanga, said yesterday. The surviving managers of the estate are Princes Jjunju Fredrick James, John Bemba, Joseph Kiyimba, Princesses Victoria Luwedde, Mariam Namusisi Nassiwa and Rosemary Nakamanya.
"Ours is Mailo land and Kalamazo sheet at Wakiso office shows that it is located at Block 269, Kyadondo in Wakiso. Most of the other fraudulent claimants have freehold titles which cannot exist on a Mailo title. You cannot be a man and at the same time a woman," Prince Kimbugwe said.
At the same controversial land is where President Museveni on June 1, laid a foundation stone to kick-start construction of a specialised hospital.
The hospital project, according to the Permanent Secretary Ministry of Health, Dr Diane Atwine, will not be affected by the ongoing wrangles, saying the ministry acquired the land legally two decades ago.
She says government owns 30 acres on which the hospital will be built and once completed, the facility will offer specialised treatment in open-heart surgeries, kidney transplants, among others.