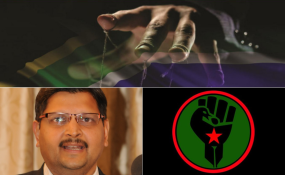 Photo: allafrica.com
Law enforcement agencies must arrest those within the ANC who have been criminally implicated in the so-called Gupta leaks, party secretary general Gwede Mantashe said on Thursday.
Mantashe was speaking at a special NEC meeting ahead of the party's NEC Lekgotla in Irene, Pretoria on Friday.
He said the party should deal decisively with the Guptas and those implicated in the leaks.
"State institutions must kick in and do their work. Police must arrest someone who is accused of a criminal activity, the justice system must kick in," he said.
Mantashe admitted that the ANC's image had been dented by the Gupta leaks.
He said while the party was not at the heart of the allegations uncovered in the Gupta emails, ANC leaders who were implicated were "denting" the party.
He maintained that the party was dealing with corruption, saying that several of its mayors had been fired as a result and the party intended doing the same to those found wanting.
"The ANC is not a law enforcement organisation. We raise the issues, throw them to government and deployees of the ANC and say look into these issues. I don't want us to be casual in dealing with the issues of the emails of the Guptas ... We must look at the issue holistically. It's quite complex." He accused the media of creating a picture that the ANC was doing nothing about corruption.
"That in itself is misleading to society. When an MEC in a province gets arrested, prosecuted and convicted, you [media] forget ... because you are looking ahead for something [else]. It's a wrong approach to educating society," he said.
This comes after former finance minister Pravin Gordhan criticised those sitting on the fence and allowing state capture to continue crippling the country's economy.
Gordhan was giving a speech during a University of Johannesburg lecture on radical economic transformation and white monopoly capital on Wednesday. He said that it would take five to ten years to recover from state capture.
News24