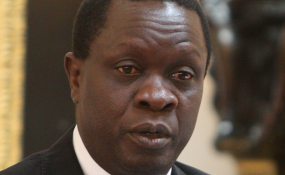 Photo: The Citizen
By Lydia Shekighenda
THE government has appointed an expert team to collaborate with Regional Commissioners (RCs) in assessing the performance of all privatised factories and identify the defunct plants.
Industry, Trade and Investment Minister Charles Mwijage told reporters in Dar es Salaam yesterday that all the non-functional factories would be repossessed unless their owners revive them, immediately.
Mr Mwijage said as the government strives to transform the country into an industrial based economy, all the privatised factories should function to create jobs to the youth and boost revenue collections.
Available statistics show that there are 156 privatised factories in the agriculture, livestock, natural resources and mineral sectors, with 54 of them or 34.6 per cent, not operating.
Mr Mwijage said that instead of relying on officials from the ministry or Treasury Registrar Office to identify dormant factories, the government has opted to involve RCs to fast truck the process.
He argued that the RCs would visit all factories in their areas of jurisdictions to identify the operational and non-functional plants before taking appropriate measures to ensure they all produce.
"I have written letters to all RCs, they will visit the factories, which were privatised in their respective regions to see if they are functional... they have 15 days for the assignment," he said.
The RCs have been given terms of reference and will work through direct communication with the ministry and TR office towards the revival or repossession of the dormant factories. The minister said government would make its decision on August 15, subject to the work by the RCs and experts.
He hinted that the government decisions are well articulated in the second five-year Development Plan and CCM election Manifesto, which insisted on having all privatised factories operating and repossessing those failing to revive operations.
"The repossessed factories will be given to other (committed) Tanzanians, capable of operating them," Mr Mwijage insisted, cautioning investors who have failed to run the factories to adhere to the privatisation rules before altering anything.
He said the government is determined to see that all privatised factories are working and producing goods, for domestic and exports markets.
The factories are also expected to offer jobs to youths who constitute about 65 per cent of the country's population.