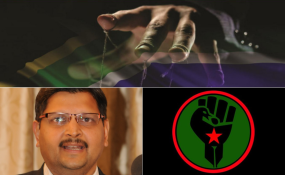 Photo: allafrica.com
amaBhungane has denied claims by Black First Land First (BLF) leader Andile Mngxitama that a white man attacked him during its "Inside the #GuptaLeaks" town hall event in Braamfontein, Johannesburg, on Thursday evening.
amaBhungane instead say that Mngxitama and his members disrupted the event and pushed Stefaans Brümmer, before shouting, "you fuck with me".
BLF however lodged a complaint of assault and racism at the Hillbrow police station after a "white man" allegedly hit Mngxitama at the event.
Hillbrow police said a case of intimidation had been opened.
Brümmer said, after the disruption started, he had approached Mngxitama where he was seated, followed by his amaBhungane colleague Micah Reddy.
"As it seemed that the persons who were causing the disruption were associated with Mngxitama, I went to him to enter dialogue on how to restore calm. I probably put my hand on his shoulder to make contact. I did not ask him to 'stop your bullshit', but I did ask him to 'please control your people', or similar words."
He said Mngxitama had stood up, grabbed him with two hands, and tried to shove him to the ground.
"A second person then threw me to the ground. I offered no resistance."
amaBhungane said it is discussing its next steps with lawyers, as Mngxitama's actions and the disruption may contravene a High Court order barring him and the BLF from intimidating, harassing, assaulting, threatening or "acting in any manner that would constitute an infringement on [the] personal liberty" of a number of journalists.
The investigative centre for journalists also called on those who may have filmed the above incident, or any other acts of violence, intimidation or harassment, last night to contact its offices.
Mngxitama and his supporters were asked to leave the amaBhungane gathering in Braamfontein after they started shouting at journalists. The event was aimed at discussing state capture and the Gupta leaks.
Speaking to News24 from the Hillbrow police station, BLF spokesperson Zanele Lwana said four BLF members had been at the event to "engage" on the topic, when a white man allegedly hit Mngxitama.
Two weeks ago, members of BLF allegedly grabbed and swore at Reddy, following the filming of a debate on fake news for the SABC television show Daily Thetha, at Shine Studios in Braamfontein, Johannesburg.
Source: News24