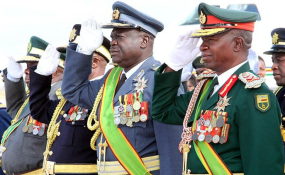 Photo: John Manzongo/The Herald
President Robert Mugabe on Thursday made startling claims that the country's military top brass harboured a plot to stage a coup against his rule in new signs that Zanu PF's protracted succession politics was nearing the much-dreaded rapture.
The 93-year-old leader was speaking during a Zanu PF Women's League National Assembly meeting at the party headquarters in Harare.
President Mugabe lamented growing disunity within his beleaguered party while accusing unnamed party leaders of sending people such as current war veterans chair Christopher Mutsvangwa to make disparaging remarks about his rule through the media.
President Mugabe, who sounded despaired, spoke of clandestine meetings done by party leaders angling to succeed him.
He said there were "manoeuvres being done in the dark even of young people whom we had in the war to keep criticising us in the papers".
"It's not the likes of Mutsvangwa per se; they are not alone. They are being sent by those at the top," President Mugabe said without mentioning names.
He revealed his frustrations against the country's meddlesome military which he said has pulled all the stops to impose his successor when he was still there.
"The military, all, have no right, you know, to be interfering with the political processes, theirs is to support," said the veteran leader.
"They can give their own views within the Constitution and according also to the principle that politics shall always lead the gun and not the gun, politics, that one would be a coup.
"Now look at what is happening coming from the leaders (military) there, to say the President must now leave. He (President) must make way for who? Who has been anointed to take over?
"It's disgraceful to say 'I am the one now, the President must go', to beat your chest saying 'I am the one now'. No, we refuse, we refuse, we refuse!"
Mugabe was referring to his increasingly influential deputy, Emmerson Mnangagwa who is the choice of the country's military for successor.
His comments follow reports by highly placed sources military chiefs have since caucused behind his back and decided on backing VP Mnangagwa for the country's most powerful job.
Top ranked Zanu PF officials and those within the country's security establishments are agitated about the President's failure to identify and groom a successor fearing any delay could see the envisaged successor fail to galvanise enough goodwill among the party faithful in time to win an election.
President Mugabe's apparent frustrations with his last line of defence marks a turning point to his faltering rule which has been propped up by the country's partisan military.
The current horse-trading and scramble for alliances among party politicians could also betray fears of what the Zimbabwean leader has always kept a closely guarded secret, that of his deteriorating health and near incapacitation.
Speaking during the same occasion on Thursday, President Mugabe's wife, Grace said the veteran leader should now anoint a successor, something that could cause further inflame an already volatile situation within the beleaguered party.