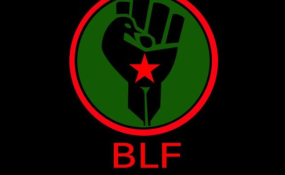 Photo: Black First Land First
The riotous behaviour of Black First Land First (BLF) supporters is dangerous for South Africa's democracy, Police Minister Fikile Mbalula said on Friday.
He called on BLF supporters to "win hearts and minds" through cogent debate, instead of disruption and intimidation.
"I am deeply disheartened to see a group of educated Africans denying others the rights they themselves fought to have in our laws," he said in a statement.
On Thursday evening, BLF supporters disrupted a debate about state capture and the Gupta emails, hosted by the amaBhungane Centre for Investigative Journalism. This was despite a High Court interdict granted to the South African National Editors' Forum (Sanef) on July 7, to stop the BLF and its leader Andile Mngxitama from harassing, threatening, or intimidating journalists, or going to their homes.
Mngxitama claimed a "white man" punched him. He demanded an apology from event organisers. During the altercation, BLF supporters pushed audience members off their chairs and shouted slogans like "we are coming for the land".
Mbalula did not say if, or when, BLF members would be arrested for allegedly contravening the interdict.
He said without a free press and free media the country was left without freedom to information. It would be "the end of freedom as we dreamt it".
Sanef applied for the interdict against the BLF after Business Day editor, Tim Cohen, was assaulted as he tried to take a picture of BLF supporters outside Tiso Blackstar editor-at-large Peter Bruce's house in Johannesburg.
Sanef chairperson, and News24 politics editor, Mahlatse Gallens, on Thursday evening condemned the actions by BLF at the amaBhungane gathering.
"It is quite despicable that the BLF has no respect for the rule of law and our Constitution. They are now trying to shut down spaces for free expression," Gallens said.
amaBhungane is a non-profit company founded to develop investigative journalism in the public interest.
Together with the Daily Maverick and News24, amaBhungane has led the investigation into the emails leaked from the Gupta family. These have exposed the extent of the family's influence in the South African public sector.
Source: News24