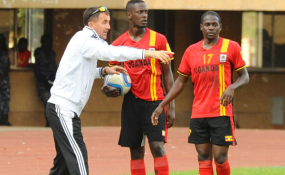 Photo: Ismail Kezaala/Daily Monitor
By Andrew Mwanguhya & Elvis Senono
Kampala — Bobby Williamson will return as Uganda Cranes coach if Fufa "offer a good deal."
The Scotsman, 55, is the latest to express interest in the Cranes coaching job after Micho Sredojevic announced he had ended his four-year relationship with Fufa.
"There is interest in Bobby from one big East African club and Zambian but now that Uganda has come up, he would like to throw his name in the ring," the Scotsman's representative, Paul Mitchell, told Daily Monitor.
Bobby, who won four Cecafa titles in five years with Cranes, was relieved of his duties after failing to qualify Uganda to the Nations Cup, a feat his successor Micho achieved last year.
Micho terminated his contract citing unpaid salaries amounting to $64,000 (Shs230m), which again brings into question whether the same federation will handle Bobby's demands.
Bobby earned slightly above Micho's monthly salary of $10,000 (Shs36m) while here from 2008 to 2013.
The Scotsman joins Belgian coach Luc Eymael to express interest in the Cranes vacant job.
Eymael told South African website Kickoff at the weekend that he had been contacted by Fufa over the possibility of taking up the Cranes job.
In fact, Fufa will Monday morning address a press conference where they are expected to reveal the way forward for the national football team.
Preliminary reports indicate Fufa is expected to keep in line with the trend and appoint a foreign coach.
Micho, who has been in charge since May 2013, followed in the footsteps of previous foreign coaches Bobby, Laszlo Csaba and Muhammad Abbas.
Additionally, Fufa president Moses Magogo has previously cast doubt over the readiness of domestic coaches to take charge of the Cranes hot seat.
But with the first leg of the home and away fixture against Rwanda in the Chan qualifiers just 11 days away, the federation could be tempted to temporarily keep in line with the current setup.
That would see Moses Basena and Fred Kajoba take interim charge until the end of August when the Cranes host Egypt in a vital 2018 World Cup qualifying fixture.