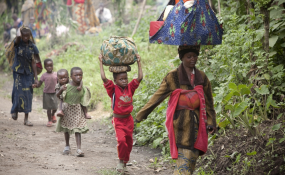 Photo: Seigfried Modola
Kasai (RDC) — DR Congolese refugees in Angola may be repatriated soon, announced on Wednesday the delegate of the Ministry of Interior of Angola in the north-east Lunda Norte province, Alfredo Lourenço Quintino "Nilo".
The commissioner, who is also the coordinator of the Angolan team of experts monitoring the case, said so at Tshikapa town in the Congolese province of Kasai.
Speaking on the sidelines of a bilateral meeting between the provinces of Lunda Norte (Angola) and Kasai (DRC), Alfredo Quintino said that 1,500 Congolese citizens have voluntarily returned to their areas of origin.
The source admitted the possibility of repatriation of more than 30,000 refugees, after having concluded that there was stability in areas formerly in tribal political conflict in DRC.
According to him, this fact does not hinder the transfer of the remaining Congolese citizens to the shelter centre, still under preparation in Lóvua municipality, under the supervision of the United Nations High Commissioner for Refugees (UNHCR).
Regarding the reopening of the frontier markets, Alfredo Quintino said that the Angolan party is receptive to this, provided there are security guarantees for the definition of the modalities in which market spaces should operate.
The provincial governor of Lunda Norte, Ernesto Muangala was also in the city of Tshicapa Thursday, where he was received by his Congolese counterpart, Marc Manyanga Ndambo..
The trip aimed at assessing the draft agreement that will be signed by the parties, with subsequent communication to the United Nations bodies in Angola.
Kasai province has five DRC districts, which share 750 kilometers with Lunda Norte, in five regions populated by more than 29 million people.