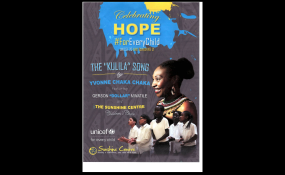 Photo: Yvonne Chaka Chaka Gala
By Eveline De Klerk
Walvis Bay — UNICEF country representative Micaela Maques de Sousa says Namibia continues to witness breakthroughs and resounding achievements in areas such as immunisation coverage, combating of HIV and AIDS.
However, many children are still left behind due to their gender, race, religion, poverty and disability, and thus she believes Namibia must recommit to ensuring all children are treated fairly and are able to live free from stigma and discrimination.
De Sousa was speaking at an advocacy, partnership and resource mobilisation gala dinner in Walvis Bay on Friday.
The event was also graced by South African songstress Yvonne Chaka Chaka, who launched a song titled Kulila, which she recorded with the children of the Sunshine Centre.
"If we don't act now, thousands of children under five will continue to die from mostly preventable causes and many children, especially children living with disabilities, will continue to miss out on their education," she said.
Children living with disabilities have rights too and Namibia needs to ensure that they also enjoy the same rights and choices as other children, she said.
"Among these are the right to life and to the opportunities that flow from good healthcare, nutrition and education. They should not be treated or regarded as a recipients of charity," she added.
Namibia still has a long way to go to ensure the universal principles of equality and non-discrimination continue to govern interventions for children, she further said.
Speaking at the same event, United Nations resident coordinator Anita Kiki Gheho said there is much work to be done when it comes to ensuring the rights of vulnerable children in Namibia.
"The good news is that the government has progressive policies and laws in place, such as the education sector policy for orphans and vulnerable children.
"However, there is a need to ensure these policies are fully implemented to enhance the rights of children in the country so that every child has access to education, healthcare," she said.