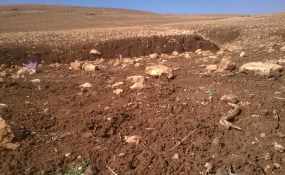 Photo: Melissa Britz/allAfrica.com
By Ballah M. Kollie
A Liberian soil scientist, Emmanuel Lincoln, is calling on the government to ensure that the country has a digital soil map to assist investors .
Lincoln told reporters that contrary to public perception that overall Liberia has a very good soil, the soil in Liberia lacks what is scientifically described as PH or Atom-to-Hydrogen content, requiring agriculturalists to add "agricultural lime" to the soil to give it the value for plant growth.
"If we had our PH at 7 percent it would be good for the growth of our plants, but the PH in our soil in Liberia stands at 4.5 percent, making the soil very sour for plant growth; more to that is that we have a lot of rocks in our soil, something that makes it difficult for the roots of plants to sink deep into the soil," he indicated.
According to him, the best soil can be found in river valleys and lowland areas because nutrients washed from up mountains and rivers are piled up in lowland and valleys.
"The best place to farm in Liberia is in the lowland and river valleys," he noted in the interview with the Liberia News Agency.
He wants government and development partners to step up the awareness on how farmers can make use of farming implements for the proper usage of the land, rather than the traditional shifting cultivation style of farming.
According to Lincoln, nearly all 15 counties have the same soil problem but sees land below mountains like the one in Lofa and the flat field in Foya as some potential areas having high value for plants to grow.
At the same time, he is challenging farmers to ensure that their soil is tested before venturing to plant.
"We as soil scientists will be able to tell you the kind of crop that is grown in specific areas, rather than you doing random planting and not getting your desired yield," he indicated.
Making reference to the country's lack of soil map, Lincoln, who holds a Masters Degree in Soil Science, said Liberia is the only West African country that does not have a soil map that should direct investors where to implement their projects when they are interested in investing in the country.
"Liberians continue to blindly operate without a soil map, whereas large-scale investors have serious need for such an instrument to direct them where to invest," he noted in the interview conducted in Buchanan, Grand Bassa County.
At the moment, soil science labs are installed at the Booker Washington Institute, Lofa, Nimba and Grand Bassa Community Colleges.
It was done through the USAID Food and Enterprise Development (USAID-FED) Program, a Feed the Future Program of US President Barrack Obama, to help farmers test their soil to know which crop to plant in an area.
USAID FED operated a US$75 million, five-year program in five of Liberia's 15 counties.
During the operating period, the project, among other things, worked with over 80,000 farmers, provided farmers access to finance and built 19 rice processing hubs in all five counties.