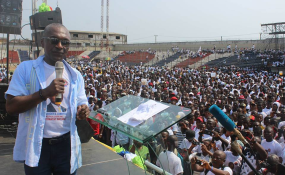 Photo: FrontPage Africa
Liberia's election outfit, the National Elections Commission (NEC) has announced that campaigning for the October 10 Legislative and Presidential elections commences on Monday, July 31at 12 noon and closes on Sunday, October 8, at about midnight.
Making the disclosure at a news conference held at the NEC headquarters Friday, NEC Chairman Jerome G. Korkoya admonished all political parties and their leaders to conduct their campaigns in a peaceful manner.
According to him, in an effort to avoid clashes during the campaign period, the NEC and the Liberia National Police (LNP) have asked all political parties and independent candidates to submit their campaign schedules to the Commission.
Meanwhile, Mr. Korkoya has disclosed that the NEC submitted during the nomination period from June 19 to July 21, nomination packages to 26 political parties and 103 independent candidates and that at the end of the process on July 21, a total number of 1,028 forms were recorded.
He said out of that number, the NEC recorded the forms of 20 presidential aspirants and 20 vice presidential candidates, while the forms of 986 Representative aspirants were also recorded.
Chairman Korkoya also disclosed that a total of 865 male aspirants were recorded, while 163 female aspirants were also recorded, and indicated that a total of 929 political aspirants were recorded, while 99 independent aspirants were also noted.
He, however, pointed out that the numbers could be reduced based on the outcome of cases being adjudicated.
At the same time, the NEC Chairman has disclosed that the total number of voters registered for the 2017 polls is 2,183,683.
In his breakdown by counties, Cllr. Korkoya said Bomi registered 61,171; Bong 208,150; Gbarpulu 48,669; Grand Bassa 145,798; Grand Cape Mount 65,800; Grand Gedeh 63,495 and Grand Kru 35,506.
He also disclosed that recorded voters were Lofa 167,555; Margibi154,328;
Maryland 57,344; River Gee 35,240; Nimba 279572; Montserrado 777,503; River Cess 35,600 and Sinoe 47,952.