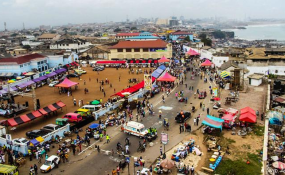 Photo: Deutsche Welle
Ghana's central bank's 1.5 per cent rate cut this week will boost lending by local banks and is a signal that the economy is gradually improving, Moody's Investors Service said on Thursday.
The major commodity exporter's GDP growth is expected to recover to 6.1 per cent this year and 7.5 per cent in 2018 compared with 3.5 per cent last year, the ratings agency said in a research note.
Central bank governor Ernest Addison announced the rate cut to 21 per cent from 22.5 per cent on Monday, citing a downward trend in consumer inflation and the potential for higher economic growth on increasing oil output.
The cut was the fourth consecutive reduction since November and was generally expected by markets. It falls within the central bank's target of 8 per cent inflation plus or minus 2 percentage points by the end of 2018, Addison said.
Moody's said the cut would ease lending rates and asset risks, which increased substantially last year and caused banks' non-performing loans to rise to 21.7 per cent by the first half of 2016.
"The rate cut and falling inflation also will support Ghana's operating environment, boosting demand for new loans and benefiting banks' revenue," Moody's added.
Ghana, which for years saw strong average GDP growth of around 7 per cent on exports of gold, cocoa and oil, is grappling with a raft of macroeconomic problems and was forced to sign a $918 million aid deal with the IMF in April 2015 to restore fiscal balance.
The weekly benchmark 91-day interest rate stood at 12.57 per cent as of July 21, reflecting one of the highest lending rates in Africa. - RT