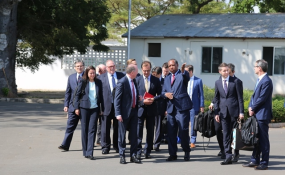 Photo: State House
ACACIA Mining shares at the Dar es Salaam Exchange plummeted towards the end of last week as its parent company prepares to meet the government to settle a long-standing dispute over export ban of its mineral concentrates.
The gold miner shares at the Dar bourse tumbled 31.82 per cent on Friday to 5,100/- after opening the day at 7,480/-, maintaining a downward trend from Thursday where the shares fell from 7,910/- to 7,480/- according to DSE reports.
Shares of the troubled mining company at London Stock Exchange had nosedived last week after it was handed a $190 billion US dollars tax bill dating back to 2000.
Acacia Mining is in a longrunning dispute with the government, which has accused it of under-declaring export revenues at two of its mines since 2000.
The company's share price has more than halved since the government first introduced a ban on gold and copper concentrate exports - from 533p at the beginning of March to around 167p today.
Meanwhile, Reuters reports that Barrick Gold Corp, the world's largest gold miner by production, has an "open mind" and is "very positive" about talks getting underway with Tanzania's government to resolve an export ban.
Barrick subsidiary Acacia Mining Plc has two mines affected by a ban imposed in March, accounting for some 6 percent of Barrick's 2017 gold production forecast. Barrick maintained its forecast for output of 5.3 million to 5.6 million ounces of gold, but cautioned that could change.
"Given that the discussions are just starting now, and just underway, from our perspective it's too early to go to any conclusion," its president Kelvin Dushnisky said in an interview.
"We just want to see how the discussions continue and we're going in with an open mind and are very positive about it." Acacia, hit with a $190 billion tax bill from Tanzania last week, has warned it will have to close its Bulyanhulu mine by Sept.
30 if the ban is not lifted. Acacia, 63.9 percent owned by Barrick, is caught up in sweeping changes to the mining industry spearheaded by President John Magufuli, who believes the East African country is not getting its fair share of profits from the sector.
Barrick Chairman John Thornton and President Magufuli agreed at a mid-June meeting to hold discussions to resolve the row. Any impact will largely depend on the ban's duration, Barrick said last week while reporting better-than-expected quarterly results.
Barrick shares rose 3.1 per cent to $16.74 in New York trading on Thursday. Dushnisky also said Barrick has not closed the process of selling its 50 percent stake in Australia's Kalgoorlie mine, but is not actively soliciting bids. Shandong Tyan Home Co Ltd ended talks with Barrick in April, citing China's new capital and acquisition rules.
Shandong unit Minjar Gold bid approximately $1.3 billion, Reuters reported. "At the right price we would have been sellers, but we're also more than happy to continue to own the asset," Dushnisky said.
Newmont Mining Corp, Barrick's partner and the Kalgoorlie operator, has said it was interested in buying the remaining stake, but price was a sticking point. "We have a view on what's an appropriate value and we'd be willing to acquire the other half if we could come to an agreement on that value," Newmont CEO Gary Goldberg told Reuters.