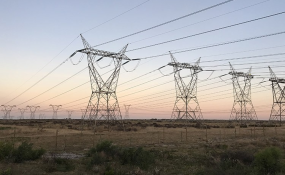 Photo: Brent Meersman/GroundUp
By Peter Luhanga
Debra Moses lives in Saxon Sea, Atlantis and is a domestic worker. When Moses bought R200 worth of electricity, she got over 170 units which lasts her for the entire month.
Now, when Moses buys electricity for the same amount, she only gets 103 units, which doesn't last that long.
The 53-year-old is one of many frustrated Cape Town residents who have lost their electricity subsidy from the City of Cape Town because their properties are valued at over R400,000. This came into effect from 1 July this year.
Her house has only two rooms. It also has "huge cracks that I still have to fix with my domestic job earnings," Moses said. "I got an independent valuation of the house and it's not even worth over R400,000."
Cape Town residents affected by the change have been venting their anger on social media with the #Electricitytarrifsmustfall hashtag.
Natasha Gertse posted the following on a Facebook page called Electricity Tarrifs Must Fall: "Electricity tariffs are affecting us very badly. If you own a house of R400,000 or more you are automatically switched over onto the highest tariff ... We have people using electricity illegally but the people paying are being held accountable and have to pay more. This is against our basic rights as they are making it impossible for us to even afford to buy electricity. People are suffering and cannot buy food because of this tariff." At the time of publication, the page had over 2,000 members.
How electricity is charged in Cape Town
Cape Town residents' electricity bills are complicated. The billing methodology is explained on the City's website. There are two types of tariffs: Domestic and Lifeline. Lifeline is aimed at poorer electricity users. The people interviewed in this article were on the Lifeline tariff but are now on the Domestic tariff that wealthier residents are charged.
But within these tariffs there are further discounts based on how much electricity you use. The consequence of this is that electricity in Cape Town ranges from just over R1.16 per kWh (about five and a half hours of fridge time or 20 microwave meals, as the City explains) to just under R2.35 per kWh.
Although the system is complex it is aimed at making wealthier people pay more, and discounting electricity for households that use it frugally.
The City has also considered implementing a new electricity tariff for properties valued at R1 million or more. But Mayoral Committee Member for Finance, Johan van der Merwe, said that it has been put on hold after considering public comments. "It was not implemented this year so that a more comprehensive public participation process could be undertaken," he said.
Van der Merwe said households who are on the Domestic Tariff (the one aimed at wealthier residents) could still apply for subsidies. These subsidies are for pensioners and people with disabilities with a household income of less than R15,000 per month.
This story was produced by West Cape News for GroundUp.