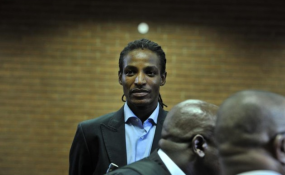 Photo: Elizabeth Sejake/Facebook
Kwaito star Sipho Charles Ndlovu, better known as "Brickz", has been denied bail pending sentencing in the Roodepoort Magistrate's Court on Tuesday.
In July, Brickz was found guilty of raping a 16-year-old girl at his home in November 2013.
His R50 000 bail was revoked after the conviction.
Magistrate John Baloyi said it was not in the interests of justice to release Ndlovu on bail, pending his sentence.
"The presumptions of innocence no longer applies, he has already been convicted. Rape is a big concern in the country. I am not convinced that the accused [Ndlovu' would attend his sentencing," Baloyi told the court.
Dressed in a black blazer, white shirt and black tie, Ndlovu appeared happy and was smiling ahead of court proceedings on Tuesday morning.
Some family members and friends whistled as he made his way to the dock.
Prosecutor Pratisha Salie said that, on the date of Ndlovu's conviction, his previous lawyer had also asked the court that he be released before his sentencing.
"If the defence is unhappy about this court's decision, then it should be heard in the High Court," Salie said.
'Conscience is clear'
At his last court appearance on June 20, the Sweety, my baby singer had appointed Piet du Plessis to handle his sentencing after his previous lawyer withdrew from the matter.
Du Plessis argued that a proper application had not been brought before the court.
"The court should allow the defence to bring an application with proper evidence," Du Plessis said.
In his affidavit, read out by Du Plessis, Ndlovu states he is 36 years old and born in Soweto. He matriculated in 1998. He travelled to London in 2006 and Swaziland in 2013 for musical performances. He had also travelled to Botswana and Nigeria.
Ndlovu has been married to his wife for 12 years and is a father of three. His affidavit further states that he would be able to generate between R40 000 and R50 000, should he be released on bail pending his sentence.
He would use the money to pay further legal costs. He said he was not a flight risk and had no history of violence.
During his testimony, Ndlovu claimed that he had already begun a process to better his life in prison.
He claimed that the rape charge against him was a "fake accusation", and that the victim and the witness were close family members.
"I am willing to serve my sentence and was not raised to run from any 'accusation'. I know the truth will come out. I'm innocent and my conscience is clear," Ndlovu told the court.
'I will serve my sentence'
He said he would not leave the country if he was released on bail.
"I am well known and a multi-award winning superstar. I will serve my sentence and come out a better person."
During cross-examination, Salie asked whether his health had been affected, and if he had ever been assaulted during his time in prison.
Ndlovu replied in the negative to both questions.
During closing arguments, Salie argued that Ndlovu would be able to evade trial.
"The accused said himself that he is a superstar and, according to his celebrity status, he's able to evade trial."
She said it was not in the interest of justice to release Nldovu after he had already been convicted, saying he was no longer a free man.
"The community would not be pleased and his health was not affected and he is not being assaulted."
The matter was postponed to September 14 for sentencing.
News24