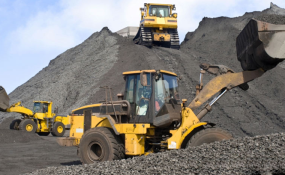 Photo: Africa Finance Corporation
By Gabriel Ewepu
The government has resolved to tackle illegal mining across the country with measures that would discourage the operations based on policies drafted to safeguard the sector.
The Minister of Mines and Steel Development, Dr Kayode Fayemi, maintained that those involved in illegal mining would be sensitised and made to see reasons why they should disengage from the trade.
He charged them to establish cooperatives that would help them benefit from government's policies and programmes for the operators in the sector.
According to them, they will have access to various packages that would make them contribute positively to the sector and economy in general.
He stated: "We are not here to criminalise you but to let you know that illegal mining is dangerous to health and the environment. We are ready to give you all necessary support to ensure that you carry out your mining activities in the proper manner.
"You can obtain your licence either as an individual or as a cooperative. The ministry officials will help you and ensure you get your licences to operate within the confines of laid down laws.
"After this we shall clamp down on those doing illegal mining. We are not going to allow illegal mining to continue. We will bring it to an end."
Similarly, the Special Assistant on Media Matters to the Minister of Mines and Steel Development, Olayinka Oyebode, said the government has also ensured that these people who are into illegal mining are registered with their state governments who are working with the Ministry, which had already commenced.
He stated: "We do enlightenment and sensitisation, and we are collaborating with state governments to register them, to know how many they are, and when we know their number then we assist them through collaboration of federal and state governments, and help them to form cooperative societies so they can be regulated.
"You cannot chase them away because they are the owners of the land essentially, and cannot use military approach by killing your own citizens who are just earning a living ignorantly. What can be done is to enlighten them and most of the states are registering them now, and when they are registered 20 people can obtain a licence.
"We call them illegal because they are operating in an unauthorised manner, but when they are into cooperative they can now approach us for a licence, which they can afford. Government can also make equipment leasing, loans, access to funding for them through their cooperative whether they are in Kaduna, Kafanchan or Ibadan, and general reorganisation. This is the way we can tackle the issue of illegal mining."