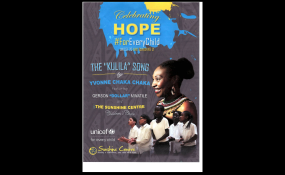 Photo: Yvonne Chaka Chaka Gala
By Adam Hartman
FULFILLING a pledge made in 2016 while calling for the enhanced protection of children's rights in Namibia, renowned South African singer Yvonne Chaka Chaka last Friday launched a song recorded with children of Walvis Bay's Sunshine Children's Centre. The song deals with upholding disabled children's right to play, and to demonstrate the many talents of children living with disabilities.
The song, titled 'Kulila', which was written by Gerson Mwatile, a volunteer working with children living with disabilities at the Sunshine Children's Centre, describes the hardships that many people go through when they leave their villages for the city in search of a better life. "It is a song about my life, which many experience," said Mwatile.
Speaking at the launch, Chaka Chaka said the song also embodied the challenges and struggles which children with disabilities go through. "These children have the right to play and reach their full potential. Art and song play a critical role to achieve this," she noted. The renowned artist then sang powerfully as part of her motivational performance at the event.
According to her, very little information is available on children living with disabilities in Namibia.
The 2011 population and housing census found that 87% of such children are four years and younger, and have never attended early childhood development programmes.
At school-going age, the proportion of children with disabilities who have never attended school is 39%, compared to 16% in households without a disabled child. Out of a total of 132 544 children who receive social grants, 5 545 are children living with disabilities.
"The plight of these children with physical and mental disabilities is of critical concern to government. This is why government has established a portfolio on disability affairs under the Office of the Vice President. While Namibia has been a champion on inclusive education, with a policy in place, much more needs to be done to ensure that all children have their rights realised," said fisheries deputy minister Samuel Ankama at the launch and gala event.
The event brought together over 200 Walvis Bay community members, including from the private sector, and was aimed at mobilising alliances to support children living with disabilities.
The event was also to celebrate the 21st anniversary of the Sunshine Children's Centre.
"We are celebrating that there is indeed hope for all chidlren, no matter who they are and where they are," said Sunshine's director Elsa Murangi. "The opportunity of this collaboration is to demonstrate to Namibia and the world that children living with disabilities should be counted."