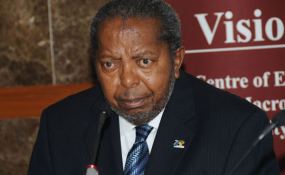 Photo: The Monitor
By Alon Mwesigwa
The forensic preliminary report by PricewaterhouseCoopers (PWC) into the mismanagement of Crane bank shows payments were made for software that was never supplied and sometimes money paid in billions would be withdrawn on the same day, writes ALON MWESIGWA.
Crane Bank Limited bosses procured and paid for information technology (IT) services and software systems that were non-existent, defrauding the company of billions of shillings, the PWC report shows.
The report findings show the depth to which fraud that finally led to the collapse of the country's fourth largest bank had reached. Bank of Uganda has sued Sudhir Ruparelia and Meera Investments, a company owned by Ruparelia, seeking to recover up to Shs 400bn and land titles said to have been fraudulently stolen from the bank.
The report, dated December 2016, found that Crane bank spent Shs 25.6bn from 2003 to 2015 on its core banking systems (CBS). However, whereas Temenos Africa (PTY) Limited and Misys International Banking Systems supplied respective software, investigators discovered that $8.2m (Shs 20.6bn) of the Shs 25.6bn was paid to another company, Technology Associates (TA), which did not deliver.
While it was not illegal for Crane bank to enter into contract with other companies that were related to Ruparelia, it was illegal if there was a lack of arms-length transactions and business decisions undertaken outside proper management, due diligence and board approval.
Using IT services is a common form in which companies fraudulently make money. This is because it is very difficult for regulators to prove whether IT services were delivered or not. And it is also hard to put a value to IT services.
With a case against Ruparelia now before court, lawyers simply have to prove to the judge the fraudulent nature of some of these transactions and the linkage they have with the businessman.
SOFTWARE USED
Crane bank was using a software called Micro Banker until it migrated to Bank Master in 2006. It then transitioned to T24 in 2015. Former CBL IT senior manager Zaki Syed told investigators that Bank Master consists of a CBS hosted at the head office and a branch user interface known as Branch Power, hosted at the branches.
Misys was the vendor and was paid for the licenses, installation and the annual maintenance fee for Bank Master. But the forensic probe found that TA, which was not a vendor, was also paid.
TA, whose chairman is Girisch Nair, was paid an initial fee of Shs 682.5m on July 10, 2003. It was paid another Shs 331.5m on December 17, 2003 for Bank Master and Branch Power licenses Then in 2005 and 2006, two payments - Shs 42.9m and Shs 15.5m - were made directly to Misys.
"Bank Master license fees as well as annual maintenance fees appear to be paid directly to Misys, the vendor," said the report.
"It is, therefore, unclear why TA was paid licenses fees as well." From the above, the report added, that TA was paid Shs 1bn while Misys Shs 58.5m for what appears to be the same licenses.
"It is not immediately clear why the amount charged by TA should be significantly higher at 17 times the amount paid to Misys," the investigators wondered.
They also found that the payments to TA in 2003 for the Bank Master license were three years prior to the installation of Bank Master in Crane bank.
In 2013, another payment totaling $1.7bn (Shs 4.4bn) for licenses was paid to TA for the extension of the existing Bank Master licenses. It was approved by A. R Kalan, the then managing director, and another official called Ajay Kumar, who was the deputy managing director, into TA's Crane bank account.
A review of the $1.7m payment indicates that the funds were paid into the TA Crane bank account number 0245030909000. The money was drawn down on the same day via a transfer of $245,000 to Misys and a cash withdrawal of $1,455,000 via counter cheque number 00572525 by Suneet Sahai, the then managing director of TA.
"An analysis of the payments from the TA CBL account could suggest that the amount payable to Misys for the extension of the licence is likely to be only $245, 000," said the report.
A review of the minutes of the meeting of board of directors held on September 4, 2013 reveals that Kalan informed the board that an extension of the existing Bank Master license had been obtained as the license had expired on May 31, 2013.
This was aimed at buying CBL time as they decided on the upgrading of the existing CBS or migration to new software. CBL had paid TA and Misys for Bank Master licenses in the past. Documentation from TA indicates that only $37,333 was payable to Misys as annual maintenance costs.
The report shows the board never authorized the payments and was only informed three months after the payments. And even then, without sufficient details to show the significant amount paid.
The report said: "The Shs 4.4bn payment is likely to be exorbitant as this is approximately four times the initial cost paid for the purchase of the same licenses and only 14 per cent of the amount paid was subsequently forwarded to the vendors of the system."
When PWC asked TA chairman Girisch Nair about the payments, he denied any knowledge of this license payment to TA. He told PWC officials that he had a dispute in 2013/2014 between him and the then MD of TA. He said he was kept out of many affairs of the company.
He, however, indicated that he should have been aware if the payment was done as he was a signatory in all the accounts". Investigators concluded that the Shs 4.4bn payment to TA with respect to the Bank Master CBS license is likely to be irregular.
MORE PAYMENTS
On February 6, 2013, Crane bank paid TA an amount of $930,000 purportedly for the supply of HP Advanced Management software. The payment voucher, number 12728, made the payment out to TA via cheque number 2758.
This was approved by Kalan, Ajay Kumar, who was the deputy MD from 2006 to 2013, and Ajay Valentina, who was Sudhir's personal assistant. A second payment of $700,000 was made on September 19, 2013 to TA for Electra Monitor and Electra Wire middleware upgrades.
This was also approved by Kalan, Kumar and Ajay. Even when the payments were made, Samuel Mutunga, the CBL IT manager, told investigators that the HP and Electra software and upgrades were not deployed in the bank.
The report does not show the payments went directly to Ruparelia Group chairman Ruparelia, but were approved by Kalan.
TA LINKED TO SUDHIR
The investigators also found a link of TA with Ruparelia. It is formally Computer Point and currently works in Kenya, Uganda, Tanzania and United Arab Emirates.
It is registered in Dubai as a Jebel Ali offshore company (Non-resident company) and, as such, the company is protected by laws of confidentiality. Confidential enquiries that PWC staff made revealed that TA was until 2014 associated with Ruparelia.
Ruparelia is said to have sold the company to Nair, the report said. A director search undertaken in the UAE by confidential sources does indeed show Ruparelia as a former director of Technology Associates Inspiring Solutions LLC, the report added.
"Whereas Nair confirmed that Technology Associates Inspiring Solutions LLC is indeed TA and that he bought it off in 2014, he denied knowledge of its previous association with Dr Sudhir, saying he acquired the shares from a one Sunit Sahai," PWC found.