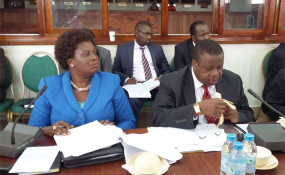 Photo: The Observer
By Sadab Kitatta Kaaya
After two parliamentary grilling sessions on the tabled Constitutional Amendment Bill 2017 on land, government now is toying with the idea of changing some of the contentious clauses of the draft legislation.
Justice and Constitutional Affairs minister Maj Gen Kahinda Otafiire told The Observer at parliament yesterday that there are a number of issues in the draft legislation, which have since come up and require cabinet to revisit.
"We are going to revisit some of the issues in the bill and see how we can improve on them," Otafiire said, moments after appearing before the Legal and Parliamentary Affairs committee.
Asked, which particular sections of the bill may be revisited, Otafiire was cagey. He said he would have to consult cabinet because that is a decision he cannot take alone.
Appearing before the Legal and Parliamentary Affairs committee, government officials for the second time in a row failed to defend the amendment bill, which seeks to allow government to take compulsory possession of private land without prior compensation of the owners.
Otafiire and the minister of Lands, Housing and Urban Development, Betty Amongi, led the government team, which also comprised technical staff from either ministries and managing of a few stalled projects.
When Amongi and the deputy attorney general, Mwesigwa Rukutana, first appeared before the same committee on July 25, they had a torrid time responding to a barrage of MPs' questions. Boxed into a corner yesterday, Otafiire and Amongi asked for two weeks to return to parliament with satisfactory answers.
This was after a seemingly ill-prepared government team failed to respond to various issues the MPs raised, and in some incidences, the ministers gave contradictory statements.
For instance, Amongi said that because of disputes, government was bound to lose lots of money borrowed largely to compensate landowners along the Standard Guage Railway (SGR) project route.
"The SGR agreement requires that the contractor gets land free of any encumbrances; we took a loan for land acquisition, which is left with only two months but there are still many court cases which are delaying the ongoing land acquisition by SGR," Amongi said.
She was later forced to swallow her words when an SGR project official told the committee that no money had ever been borrowed to compensate landowners.
The ministers also failed to name any country where the proposals in the draft legislation had been implemented.
"This is a peculiar amendment; there is no country where it is working, you have no benchmarks, we have also done our research; our [Parliament] research department has conducted extensive research and I can assure you that we are better informed," committee chairman Jacob Oboth-Oboth told the ministers.
Amongi again found herself short on responses when MPs tore into her list of alleged landowners who had stalled infrastructural projects because they were demanding higher compensation rates.
Among them is a farmer, Ali Kafuko, who is demanding for Shs 395,000 in compensation for his crops.
"The reasons being advanced for us to amend the Constitution are ridiculous.
"Surely, do we have to amend the Constitution because government has failed to pay someone Shs 395,000?" Abdu Katuntu (Bugweri) wondered.
"The highest figure for compensation on this list is Shs 71m and the total amount is Shs 350m, which government can just clear," Katuntu added.
Otafiire, however, asked MPs not to be carried away by the figures. He urged them to focus on the attitude of the property owners.
"It's not about the magnitude, but the attitude...we have got situations where a government valuer values land at Shs 20m but the owner is just a speculator and demands for say, Shs 200m. Should we burden Ugandans because of that one Ugandan?" Otafiire wondered.
Otafiire's submission were shot down by MPs.
"We have always had disputes; must we amend the Constitution every time we get disputes? Why don't you instead amend the law [Land Act] and create a time frame within which such disputes should be resolved?" Oboth-Oboth asked Otafiire who attempted to draw the committee into talk about Uganda's political history.
But MPs Ssemujju Ibrahim Nganda (Kira Municipality) and Katuntu could not allow him. They said parliament cannot legislate for the inefficiencies in government.
"Government's lack of proper planning should not shift to now burden the ordinary Ugandans. I have a report from the ministry of Finance and according to it, all the loans we approved in 2011 have not been fully put to use after five years," Ssemujju said.
"Why do you want us to think that it is only land that is stalling government projects?" Ssemujju asked the ministers. Katuntu in support of Ssemujju heaped blame on government institutions.
"The issue is with transparency and corruption in your [government] institutions. It is the unscrupulous officers in those offices that connive with mafias who go and acquire land in areas where a project is going to be implemented so that they can ask for huge sums of money in compensation," Katuntu said.
"Go and sort out the corruption in your departments, but don't tamper with the Constitution," the Bugweri MP added.