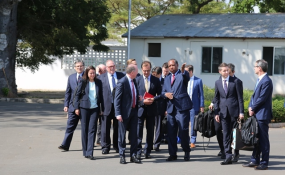 Photo: State House
By Athuman Mtulya
Dar es Salaam — As talks between the government and Barrick Gold Corporation over a mining dispute enter their third day today, the names of Tanzanian negotiators have yet to be made public.
The only known and visible face of the local team is its leader, Prof Palamagamba Kabudi, who is also the Minister of Constitutional and Legal Affairs.
Prof Kabudi's stewardship was confirmed on Monday in a statement released by State House in Dar es Salaam announcing commencement of the talks.
Prof Kabudi's role was almost certain from the time he was tasked with drafting and tabling sweeping new mining and natural resources exploitation legislation, which was passed recently by Parliament.
What is puzzling, however, is the lack of information as to who else, other than Prof Kabudi, is in the team negotiating with Barrick.
Questions abound as to why the government is reluctant to reveal the identities of the people it has entrusted with the Herculean task of championing Tanzanians' interests in talks with the mining giant.
It is worth noting that images of Barrick's contingent comprising about a dozen members have been circulating widely, unlike those of the Tanzanian team.
The images, including video clips recorded during the closed-door meeting, all showed Barrick members, but not the Tanzanians. Prof Kabudi was shown escorting the delegation alone after the first day of talks. He has also given short interviews, but has never revealed who he was working with.
Efforts by The Citizen to reach State House and Prof Kabudi to explain why the identities have been kept under wraps did not bear fruit yesterday. However, State House spokesperson Gerson Msigwa was quoted saying Tanzanians should not be worried.
He said there was nothing sinister about withholding the names, adding that all would end well under Prof Kabudi.
Mr Msigwa's assurance notwithstanding, speculation was rife about why a tight lid had been kept on the local negotiating team.
The Barrick team is led by a former British Special Air Service Commander, who is also the company's chief operating officer (COO), Mr Richard Williams.
A political and diplomacy analyst, who asked not to be named due to the sensitivity of the matter, said the decision not to identify members of the Tanzanian team showed that there was tension and pressure over the matter within the government.
"Indeed, it is a serious issue, but that doesn't warrant such secrecy. Details of the negotiations at first might be a secret, but we all know what the problem is and how we got to this point.
"This shroud of secrecy shows, among other things, that there's tension within the government. The negotiators up to this point are already known to the Barrick team, so one would wonder why they are being hidden from Tanzanians who have every right to be told who their ambassadors on this important mission are," he said.
But political science lecturer at the University of Dar es Salaam, Mr Richard Mbunda, said there could be concrete reasons for keeping the identities of Tanzanian negotiators secret.
He said while Tanzanians had every right to know who their representatives were, it was understandable why the government would want to withhold their identities.
"This is a very serious issue, we're talking about a multi-billion dollar dispute...a lot is at stake here. The moment you make the names public you will be putting them under intense public scrutiny, especially on social media.
"They could come under intense public pressure and be distracted," said Mr Mbunda.
He was also of the view that the government might not want to disclose their details in order to minimise the possibility of manipulation.
"We're dealing with one of the biggest multinational companies here, and we know how good such people are in advancing their agenda. They might be mingling with our negotiators, but they know little or nothing about their lives outside the conference room, and that could help a great deal."
President John Magufuli said earlier in the year that the leader of one of the committees he appointed to investigate alleged massive fraud in the export of mineral concentrate was approached and asked to doctor the findings.
He warned those who were intent on interfering with the investigations to keep off as they were being monitored.