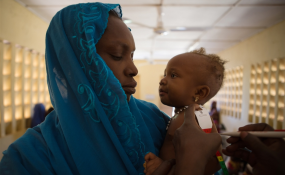 Photo: Tanya Bindra/IRIN
By By John Namkwahe
A mobile service dubbed 'Wazazi Nipendeni SMS Service' aimed at promoting knowledge and behaviour change in nutrition practices has been launched.
The Ministry of Health, Community Development, Gender, Elders and Children has partnered with the Food and Nutrition Centre (TFNC) and the GSM Association in promoting proper nutrition.
The service offers free text messages in Swahili for pregnant women, mothers with children under 5 years of age, and new mothers.
It also provides Tanzanians with a wide-range of information concerning healthy pregnancy and early childhood care.
Addressing participants during commemoration of the World Breastfeeding Week, and launching of the service yesterday, TFNC managing director Joyceline Kaganda revealed that so far, over 1.7 million Tanzanians have subscribed to the free service from across all mobile networks. She also noted that at least 115 million messages have been sent out to subscribers so far.
Dr Kaganda also said that the service aims at addressing national nutrition priority areas including promoting exclusive breastfeeding practices for children aged 0-6 months and promoting optimal feeding practices for children aged 6-24 months and beyond.
On average, subscribers receive three to four nutrition related messages per week, she said.
A beneficiary, Ms Halima Juma, a mother of two children, testified on how useful the service has been to her.
She said the information has been very helpful to her.
For her part, Health minister Ummy Mwalimu, who graced the event, urged mothers with children under 5 years to subscribe and benefit from the free mobile service.
According to statistics availed by the Health ministry, at least 98 out of 100 women are properly breastfeeding their babies.
This year's World Breastfeeding Week commemoration, which ends on August 7, is themed "Sustaining Breastfeeding Together".
It focuses on supporting breastfeeding practices at all levels.