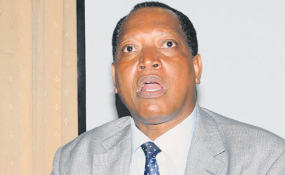 Photo: The Citizen
editorial
DISCUSSIONS between the government and Barrick Goldmine currently known as Acacia on the concentrate export ban and other issues kicks off yesterday.
Barrick is the majority shareholder with 63.9 per cent equity interest in Acacia Mining that was hit by mineral sand export ban. On March this year, the government banned exports of sand mineral to find out whether it contained real composition and that the company pays revenues deserved.
The president then tasked two different committees to investigate the sector and they uncovered that mining companies had been under-declaring the value of their exports.
That prompted Barrick's Chairman John Thornton to jet into the country in June, this year and met President John Magufuli in Dar es Salaam, and they agreed to hold discussions to resolve the row.
The discussion between the government and Barrick is now ongoing to set a win- win situation where both parties benefit from the mineral resources.
What baffles many is that Tanzania is known for being rich in huge reserves of various mineral resources, but has never reaped sufficiently from the sector to benefit and lift its people from abject poverty.
It is from this backdrop that the government initiated the move to clear doubts to get its right revenue from the mineral resources. This move was also backed by the signing of the new mining bills by President John Magufuli that requires the government to own at least a 16 per cent stake in mining projects.
The laws, which also increase royalties' tax on gold and other minerals, were passed by parliament. The new mining laws, which were fast-tracked through parliament, raise royalties' tax for gold, copper, silver and platinum exports to six per cent from four per cent.
They also give the government the right to tear up and renegotiate contracts for natural resources like gas or minerals and remove the right to international arbitration.
It is the expectations of all Tanzanians that the negotiations between the two parties will create a win-win situation for the country and investors.
Also the talks are expected to open new chapter and create environment for increased flow of investment into the mining sectors, particularly the untapped mineral resources in different parts of the country.