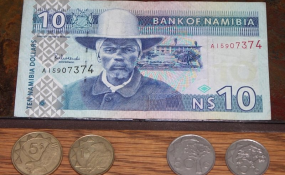 Photo: NJR ZA/Wikitravel.org
By Ndama Nakashole
PRESIDENT Hage Geingob yesterday said the state of the economy is actually better than what is currently being portrayed in the public domain.
Speaking at a press conference at State House yesterday, Geingob said the underpinning fundamentals of the economy are stronger today than they were a year ago.
In December 2016, Namibia slipped into a 'technical' recession, as growth figures showed that the economy contracted by 1% between October and December.
A recession is a period of temporary economic decline during which trade and industrial activity are reduced, generally identified by a fall in GDP in two successive quarters.
"Opinions and perceptions on the state of the Namibian economy are in wide circulation. It is our view that the minister of finance and the economic adviser to the President have tried their level best to provide clarity on the state of the economy, and to project a positive trajectory and narrative of economic recovery," the President stated.
He added that they have realised that one key factor fuelling discontent and a gloomy opinion is the occurrence of unsettled invoices by government.
"We deeply regret the accumulation of unsettled invoices that came about as a result of weak revenue collection due to the economic downturn," he said.
Geingob noted that they understand the serious impact this has had on business operations, in particular on small and medium enterprises, and government sympathises with those businesses which had to close down as a result of the economic downturn, as well as those employees who lost jobs as a result of such foreclosures.
"I just want to provide personal assurance to all affected stakeholders that government has resolved to settle all outstanding invoices by the end of August 2017," he promised.
While acknowledging that the economy had borne the brunt of the downturn, he said it is now on a recovery path.
Geingob furthermore stated that it is significant that Namibia received good rainfalls during the just-ended rainy season, and government had observed recovery in the agricultural sector, both in crop production where a bumper harvest is expected, and in livestock farming, where there has been an uptick in meat prices.
"Consumer price inflation has been on a downward trajectory during the past six months, and hit a low of 6,1% in June 2017. Most important is the fact that food price inflation is much lower than it was during the same period last year. This means low-income earners who spend more of their income on food items are relatively shielded from the full impact of inflation, compared to the same period last year," he said.
The President added that some indicators such as monthly credit extension by commercial banks, monthly motor- vehicle sales and monthly statistics on building plans approved and completed are starting to show and confirm a modest recovery.
"Liquidity conditions have improved remarkably. Where subscriptions to government bonds had at times been as low as 30% this time last year, bond issuances this year are fully subscribed to. A credit facility with the African Development Bank, in South African-denominated currency and at favourable terms, has immensely contributed to the improved liquidity situation in the country," said Geingob.
He said it is true that 2016 was one of the most challenging years for Namibia from an economic growth viewpoint, "however, it was also one of the hardest years globally, and with the exception of eastern Africa, most other countries in sub-Saharan Africa experienced flat or negative growth."