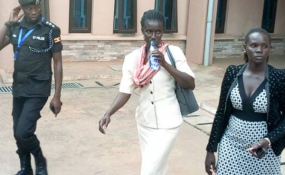 Photo: Daily Monitor
By Ephraim Kasozi & Jalira Namyalo
A senior Police officer attached to Kapeeka Police Station has been arrested and handed over to the Professional Standards Unit (PSU) of the force, pending investigations in connection with her role in the mishandling of land disputes.
The Commission of Inquiry into land matters ordered for the arrest of the Assistant Superintendent of Police (ASP), Christine Atayi Ayeko after she was accused of interfering with investigations into land disputes in her area of jurisdiction
"For us to proceed well without getting any more calls from Kapeeka, we will hand you over to the Police Standards Unit to deal with you. Let a senior police officer take you so that they can deal with you. Let the PSU make sure that you never go back to Kapeeka because you are compromising our work and the commission cannot do its work when you are there," Justice Catherine Bamugemereire, the commission chairperson ordered.
The order to arrest Ms Ayeko followed the commission quizzing her in regard to alleged arrest and detention of people in Kapeeka Sub-county over fake cases.
A group of Kapeeka Sub county residents have since petitioned and testified before the commission accusing businessman, Haji Swaib Yiga of colluding with a local council leader and police of evicting them from the land they have occupied for years.
Residents from six villages also accused Mr Yiga of destroying their plantations before grabbing large chucks of their land since 2016.
According to the commission, Police officers on orders of Ms Ayeko arrested among others Mr Edward Sekalongo who has been in detention since July 29 without being arraigned in courts of law.
It is alleged that Mr Sekalongo was arrested over accusations of stealing six bags of maize from Mr Yiga's farm upon a tip-off from unknown people.
The commission also quizzed Ms Ayeko on how she acquired 10 acres at Balatira village, the same land allegedly grabbed by Mr Yiga from the family of the late Yakobo Lukwago.
In response, Ms Ayeko told the commission that she lawfully acquired the land with her money she earned from the sale of her produce.
She also testified that Mr Sekalongo was arrested over suspicion of stealing maize and that investigations into the matter have since been taken up by the District Police Commander.
Ms Ayeko becomes the second police officer to be arrested by the commission in connection with frustrating the work of the probe team.
Last month, the Justice Bamugemereire-led Commission ordered the arrest and detention of Mr Raymond Jjagwe, a detective Assistant Superintendent of Police in Luwero who was accused of facilitating arrests and torture of the residents.
Mr Jjagwe was accused of arresting, detaining and torturing women to compel their husbands appear before businessman and Kenyan national Ambrose Murunga for action.