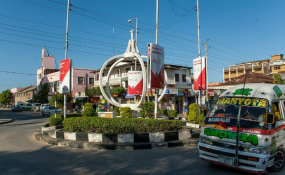 Photo: Daily News
By Henry Lyimo
LOCAL businesses are capable and ready to deliver services for the construction of Hoima- Tanga crude oil pipeline, as more Tanzanians increasingly become eager to benefit from one of the largest infrastructural projects.
The co-founder of Association of Tanzania Oil and Gas Service Providers (ATOGS), Mr Abdulsamad Abdulrahim, told reporters in Dar es Salaam yesterday that indigenous Tanzanian individuals and corporate bodies have what it takes to deliver services for the construction of the pipeline.
The project is expected to be launched in Tanga after laying of a foundation stone on Saturday by President John Magufuli and his Ugandan counterpart, Mr Yoweri Museveni.
"ATOGS wishes to assure the government that local suppliers have demonstrated capacity and readiness to deliver most of the services both technical and nontechnical that will be required in this project," he said.
Uganda and Tanzania are jointly constructing a 1,445 kilometre world's longest heated pipeline from Hoima oilfields in Uganda to Tanga Port of the Indian Ocean at an estimated cost of 8tri/- (3.35 billion US dollars) to pump oil discovered in Uganda to the international markets.
About 80 per cent of the construction of the pipeline will be conducted in Tanzania as it will be passing through the following regions - Kagera, Geita, Shinyanga, Tabora, Dodoma, Manyara and Tanga.
It is expected to create about 10,000 direct jobs in Uganda and Tanzania, many more indirect jobs and thousands of trade and business opportunities.
According to ATOGS cofounder, local suppliers were capable of delivering in construction, engineering services, procurement of materials, logistics and indirect services such as accommodation, transport, facilities management, operation and maintenance.
Other areas which can be served by local businesses include financial services such as banking and insurance, legal, security, catering and emergencies," he said. He added that companies offering most of these services have joined ATOGS before encouraging others to do so.
He called upon other service providers in the oil and gas sector to show up and take the opportunities to be created before, during and after construction of the pipeline.
According to him, service providers stand to benefit immensely if they are represented by one body for more convenience on the part of government and other stakeholders.
"It is even more encouraging that participation of local suppliers in the oil and gas sector has a legal backing of the Petroleum Act of 2015, which opens opportunities for local content.
The Executive Director of Tanzania Private Sector Foundation (TPSF), Godfrey Simbeye, said construction of the pipeline will be one among largest infrastructure investment projects and it was important that Tanzanians grabbed jobs and trade opportunities to be created.
He said TPSF will cooperate with ATOGS to lobby and promote participation of Tanzanians in the project, to maximise economic benefits to the nationals. "Let's go and take the jobs and businesses.
Let's go and deliver services in the highest possible skill level. Let's go and do business and follow ethics to build trust to others," he said.
He said banks and financial institutions also need to strategise on how they will help Tanzanians retain home as much as possible the 8tri/- that will be used to finance the construction.
He called upon the government to continue improving investment climate to attract local and foreign investors in large infrastructural projects.