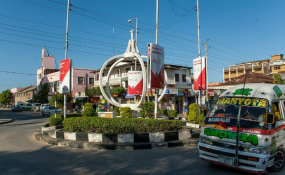 Photo: Daily News
By Cheji Bakari
Tanga — PEOPLE from upcountry regions are flocking to Tanga to try their luck on jobs and trade opportunities to be created in the construction of the 1,403-kilometre Uganda-Tanzania crude oil pipeline expected to be launched on Saturday.
President John Magufuli and his Ugandan counterpartpart Yoweri Museveni are expected to lay a foundation stone for the construction of the 3.55 billion US dollars crude export pipeline from Uganda oil fields in Hoima to Tanga port city of Indian Ocean.
Our survey has shown many people from different regions of Tanzania have flocked to the project site for the purpose awaiting unfolding opportunities. The survey established that many people are coming from Mwanza, Tabora, Morogoro, Dodoma, Kagera and Shinyanga regions.
"At Chongoleani there are a lot of people from different regions of Tanzania and most of them are coming from the Lake Zone regions," said Jumaa Hussein. He said most of them were masons, plumbers, carpenters and others came to look for opportunities for catering services and other cleaning and medical services.
Another person identified himself as Kakore Adam from Same District in Kilimanjaro Region said he came there to look for opportunities and he plans to start up a small company that will offer services to the people at the work site.
"This is a golden opportunity, I have come to look for economic opportunities even if to introduce my local company that will offer services to pipe sites," he said. Furthermore for the people of Mkinga District where the pipe will pass, said they were thankful and optimistic to utilise the opportunities well to boost their earnings.
"Tanga people will be the first beneficiaries because fuel price will decline. Many will need to relocated to pave the way for pipeline and will, therefore, be paid a lot of money," said Abiud Shemweta, a pastor with Anglican church who resides at Horohoro border.