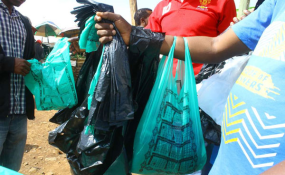 Photo: Benson Momanyi/Daily Nation
By Brian Ngugi
Kenya Association of Manufacturers (KAM) has written a petition to President Uhuru Kenyatta asking him to lift the ban on plastic bags use which is set to come into effect in 26 days.
KAM says the ban, if implemented, would lead to loss of over 420,000 jobs and revenue to firms and the government amounting to hundreds of millions of shillings.
In the letter, addressed to the Chief of Staff of the President and Head of Public Service Joseph Kinyua, KAM proposes that a sustainable plastic waste management policy be implemented instead of the ban. The manufacturers say they are ready to contribute to a fund that will be used to manage the waste.
KAM says this alternative has the potential of creating jobs and revenue from waste collection, transportation, segregation and recycling while at the same time controlling environmental pollution.
"We strongly believe that the proposed prayers will address the economic and unemployment concerns that will emerge in the manufacturing sector and at the same time clean the environment in a way that creates jobs and generates revenues," says KAM chief executive Phyllis Wakiaga in the letter dated 24 July.
A gazette notice published in March imposed a ban on the use, manufacture and importation of plastic bags used for commercial and household packaging from September.
The move -- the third attempt in a decade -- saw Kenya join other environmentally conscious countries in the war on the use of plastics.
Environmentalists have praised the ban, saying it will help to minimise pollution.
Environment secretary Judi Wakhungu has maintained that the ban is here to stay, dismissing the figure of job losses given by the manufacturers as an "exaggeration."
Prof Wakhungu has argued that besides protecting the environment, the ban would spur growth of homegrown industries dealing in alternative packaging material including traditional baskets (kiondos) made from sisal.
It remains to be seen if Mr Kenyatta will accede to KAM's request.