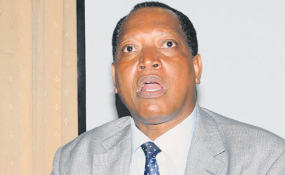 Photo: The Citizen
editorial
By The Citizen
At long last, talks between the government and Barrick Gold Corporation, the majority shareholder in Acacia Mining, have commenced in Dar es Salaam to try to resolve a potentially damaging dispute following the ban on the shipping out of unprocessed mineral concentrates.
It is a big relief that the talks have come at a time when it appeared that things were about to get out of hand. Two weeks ago, President John Magufuli expressed his concern about the long time it was taking for dialogue to start, and threatened to nationalise mines owned by Acacia if no progress was made.
It was clear the President's patience was waning and he was adopting a hardline approach in trying to resolve the dispute. The government had already fired a salvo, slapping Acacia with a colossal $190 billion (Sh424 trillion) bill ahead of the talks. The bill, according to the government, is an accumulation of unpaid taxes, royalties and penalties dating back to 2000.
The tax demand followed reports by two committees appointed by the President, which alleged massive fraud in gold mining, which accounts for nearly 35 per cent of Tanzania's foreign exchange earnings.
Not surprisingly, Barrick has disputed the findings and stated that its operations in Tanzania have always been aboveboard. The company knows best where the shoe pinches. Since the dispute began in March, Acacia's value at the London Stock Exchange has nearly halved.
Its operations risk grinding to a halt with the loss of thousands of jobs and the industry's significant contribution to the economy. It is apparent therefore that the longer the dispute drags on, the more the two sides stand to lose.
It is our hope that those involved in the negotiations will do so with an open mind. Hiding cards under the table will not in any way lead to a win-win situation for Tanzania and Barrick.