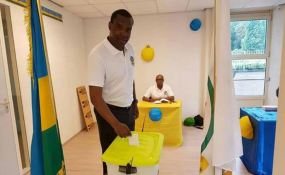 Photo: New Times
By Elisee Mpirwa
By midday Rwandan time, most members of the Rwandan community living in the Diaspora had cast their vote in the ongoing presidential elections.
The Diaspora members are voting a day to the national election is expected to take place on Friday August 4.
There are 98 polling stations around world set up to serve the over 44,000 voters.
Several missions contacted reported a high turn up at respective polling stations despite the activity taking place on a working day in these countries.
Kenya
Around 6:03am Kenya time, returning officers were taking oath at the Rwandan High Commission in Nairobi, vowing to conduct and supervise elections in an ethical manner.
Over 2,900 and 227 voters are expected to cast their vote from Nairobi and Mombasa respectively, according to the High Commission in Nairobi.
The two polling stations (Nairobi and Mombasa) were open from 6am Kenyan time.
Belgium
With two polling stations in Bruxelles and Liège, Rwandan community in Belgium started casting their votes early in the morning, a process that was presided over by ambassador Olivier Nduhungirehe.
Belgium is one of the countries with the biggest Rwandan community in the Diaspora.
South Korea
Meanwhile, Rwandans living in South Korea started to cast their votes in Seoul and according to Ambassador Emma-Francoise Isumbingabo, the excitement is much among those who voted from embassy because most are first time voters.
"These youths who are mainly university students are very excited to have taken part in a presidential election for the first time in their lives. The voting here started at 7am local time," Isumbingabo told The New Times.
South Africa and Mozambique
Rwandans living in the cities of Cape Town, Pretoria and Maputo also started voting at 7am.
The Rwandan High Commissioner to South Africa, Vincent Karega said that many were not bothered with making long distances to cast their ballot from a nearest polling station.
"I am personally happy to vote for the third time since Rwanda's rebirth," Karega said on Twitter.
Singapore
"A great day at the High Commission in Singapore, where dozens of Rwandans came to cast their votes in this hugely consequential election!" the Rwandan embassy in Singapore twitted on the official handle.
Sudan
Rwandans in Sudan, mainly working in the United Nations Peacekeeping Mission there, are voting from nine polling stations.
The polling stations are located at the embassy in Khartoum, and the cities of Kabkabya, Umkadada, El Fashir, Saraf Omra, Zalingei, Zamzam, Elseief and Nertiti.
The voting exercise all over Rwandan Embassy in Sudan jurisdiction started at 8am Sudan time and polling sites will remain open until 16h, according to officials.
Ethiopia and Djibouti
In the cities of Djibouti and Addis Ababa, the Rwandan communities living there started voting at 7am, where Ambassador Hope Tumukunde voted from the embassy in Addis Ababa.
Nigeria
The Rwandan Ambassador High Commissioner in Nigeria Stanislas Kamanzi presided over the exercise held at the high commission offices in Abuja.
Scores of Rwandans leaving here are progressively trickling in to exercise their civic right, according to embassy officials.
Japan
Around 92 Rwandans in Japan cast their votes early in the morning were the polling sites closed at 16h Japan time.
"Rwandans in Japan voting continued into the evening at Tokyo embassy," the Rwandan ambassador to Japan tweeted Thursday at noon (Rwandan time).
Nordic countries
According to the Ambassador of the Republic of Rwanda to the Nordic countries, Christine Nkulikiyinka, Rwandans are voting from Helsinki (Finland), Stockholm (Sweden) and Oslo (Norway).
India
The High Commissioner of Rwanda to India, Ernest Rwamucyo says that polls were open all across the country Rwandans in India with six polling stations are now almost done casting their votes.
Canada
With four polling stations around Canada in the cities of Ottawa, Montreal, Toronto and Edmonton, Rwandans living in this country will be voting early in the morning as indicated Shakilla Umutoni the Chargée d'Affaires at Rwanda High Commission to Canada via her twitter account.
In other countries like Angola, Benin, Senegal, Zambia… Rwandans are still coming in numbers to exercise their civic rights.